It's time for our annual Year in Review! As we look back on each semester of the academic year, we reflect on the changes we have experienced, as individuals and a community. We're so happy that this year marked the return of some of our favorite in-person events.
We started third semester with our 3rd Annual Cultural Competency Conference (CCC) and for the first time the conference was a two day event taking place on Friday, May 6, and Saturday, May 7. The first day of the conference began with a keynote address from Dr. Kimberly Martin and was followed by 3 rounds of concurrent sessions. The second day of the conference was a full-day workshop on working with gender minorities hosted by Dr. River Farrell. The CCC is hosted by Student Engagement, IDEA, and Psi Chi. 
May was Career Services Month at MSP, we offered a variety of virtual programming designed to help students prepare for entering the workforce. These presentations covered topics including insurance, networking, starting your own practice, and more. Students took advantage of resume reviews, mock interviews, and the opportunity for professional headshots, like MA student Emilio Delgado (pictured right).  The month culminated in the MSP Career Fair, which brought together 28 employers to meet with our graduating students and alumni.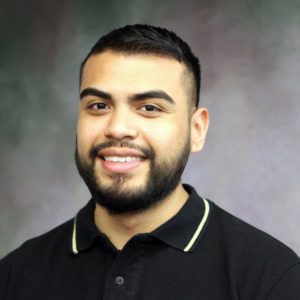 In June, we were thrilled to welcome alumni and the community back to campus for the first time since the pandemic started to celebrate our 40th Anniversary. The celebration featured stories from our co-founders Drs. Diane Blau and Bruce Douglass (pictured left), a speech from Oakland County Executive David Coulter, a look at the institutional archives, tours of the campus expansion, and more! Click here for more photos of the event.
We were so excited to be able to have an in-person Spirit Week this past June. Student Engagement brought back favorite traditions including a community lunch from the Hero or Villain food truck (featured right). In addition to great food, students could take advantage of supplies to eat outdoors, go on a scavenger hunt, beautify our campus with chalk, and pick up some MSP swag all week long. 
On June 17th, Psi Chi hosted their annual induction ceremony.  Recognized at the ceremony were the 2022 inductees (pictured left) along with those who had been inducted virtually in 2020 and 2021. The Excellence in Membership Award was presented to 2020 recipient Logan Chappell (MA '19, PsyD 3), 2021 recipient Nadeen Majeed (MA '19, PsyD 3), and 2022 recipient Savannah Yount (MA '21, PsyD 1). 
In addition to those events highlighted above, we also hosted the following events and speakers in third semester: 
ECO Earth Day Event at Walking Lightly
"Driving While Black" as "Living While Black" with Dr. Jamila Jefferson-Jones, Professor of Law at Wayne State University 
Career Services: Let's Talk: Telehealth for Mental Health Practitioners with Dr. Elizabeth Stanton, LP of Triad
Career Services: Compelling Cover Letters and Resumes with John Langlois, Psychology Manager at MORC, Inc. 
Career Services: Social Media and Networking with MSP staff Carrie Pyeatt and Candi Wilson
Career Services: Billing for LLPs – Insurance with Cindy Moore
Career Services: Post-Graduate Certificate Panel with Leslie Styer, MA, LLP (MA '14) and Prem Pahwa, LSW, AASECT
Dog Walking at Shiawassee Park
Career Services: Studying for BCBA with Hanna Riesser, MA ('21), BCBA (PsyD 1)
Career Services: Job Hunting with a TLLP/How to Tackle the EPPP with Kristie Wyler, MA ('21), LLP 
Career Services: Starting a Private Practice with Dr. Paulina Drake (PsyD '18)
Career Services: Job Searching in this Virtual Environment with LaToya Gaines, PsyD ('12), LP
Psi Chi Self-Care Week 
EPPP Study Group with Andrea Brent (PsyD 3) 
More than LGBTQ+: Understanding Identity Differences in Research with Dr. Dustin Shepler (Core Faculty, Interim Director of Clinical Training) 
Psi Chi End of Year Carnival 
Proposal to Poster Workshop with Dr. Dustin Shepler (Core Faculty, Interim Director of Clinical Training) 
City Rising: Gentrification and Displacement  PBS Documentary Screening