It's time for our annual Year in Review! As we look back on each semester of the academic year, we reflect on the changes we have experienced, as individuals and a community. We're so happy that this year marked the return of some of our favorite in-person events.
In February we celebrated the amazing accomplishments of our PsyD students when 100% of students who are moving on to their internship matched in  Association of Psychology Postdoctoral and Internship Centers (APPIC) national matching program! Pictured right, Sharmane Brown celebrates her placement at Walter Reed Medical Center. Learn more about the internship matches and see where our students will be going.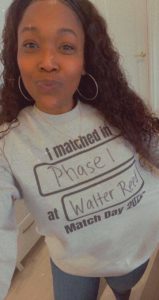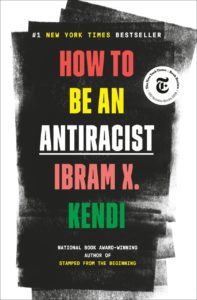 For Black History Month, Student Engagement hosted a virtual book club where students, faculty, and staff gathered together to read How to Be an Anti-Racist by Ibram X Kendi. The book blends elements of  of a memoir with an academic perspective on becoming anti-racist on the individual and societal level and provided our community with a chance to have important conversations.
Our community presented an impressive amount of research in the second semester. We were well represented by students, faculty, and alumni at the APA Division 32 conference in March, with five presentations featuring members of the MSP community. In April, seven presentations at the Midwest Psychological Association conference featured MSP students and faculty, including PsyD Student Alexa Resestar (pictured right). 
In addition to those events highlighted above, we also hosted the following events and speakers in second semester:
Food and Household Item Drive for Sanctum House
Human Trafficking Presentation with Karen G Moore, Sanctum House Executive Director
Queer Consultation: Working with Gender and Sexual Minorities with Dr. River Farrell (Adjunct Faculty)
Black Joy and Inspiration Detroit Virtual Tour with Detroit Experience Factory
IDEA attended the Drive for Freedom, Justice, and Equity 
Virtual Game Night
Empowerment-Based Services with HAVEN
Structural Racism and Inequalities in Education: Effects on Students and Strategies for the Future with Dr. Danielle Balaghi (Core Faculty, Interim PsyD Program Director) and Dr. Chimereodo Okoroji, Postdoctoral Research Fellow at Children's Hospital of Philadelphia 
The Disparity of Discipline with Angel Estrada, RBT, MSEd 
Psi Chi hosted a Food Drive for Gleaners Community Foodbank of Southeast Michigan
Mental Health Treatment for Current and Former Prisoners with David Dawdy, MDOC Director of Mental Health Services
Paper to Proposal Workshops with Dr. Dustin Shepler (Core Faculty, Interim Director of Clinical Training)
Working with Clients with Addiction and Substances Abuse with Brittany Miles, LMSW of Mariners Inn
Sampling Considerations for LGBTQ+ Research with Dr. Dustin Shepler (Core Faculty, Interim Director of Clinical Training)
ECO and IDEA hosted Critical Contexts for Black-American Mental Health: Perspectives from an Ecopsychosocial Lens with Dr. Derrick Sebree Jr (PsyD '16, Core Faculty, Interim MA Program Director)
Queer Consultation with Dr. River Farrell (Adjunct Faculty)
Research Drop-In with Erica Medina (PsyD 1)
Panel Discussion on Structural Racism in Law Enforcement with Dr. Michael Wallace (MA '93, PsyD '17, Core Faculty) and Mark Fancher, ACLU Racial Justice Staff Attorney
How to be a Successful Child Therapist in Private Practice with Anton Babushkin, PhD, LMSW
ECO Seed and Plant Swap
Unmarried Arab American Women & Sexuality with Joelle Frangie (PsyD 4)
Research Drop-In with Dr. Dustin Shepler (Core Faculty, Interim Director of Clinical Training)
*See a presentation above that you missed? We may have a recording available. Email Dana Erickson ([email protected]) to check.