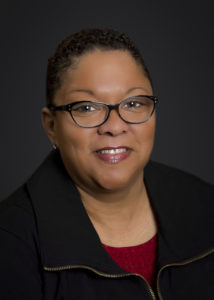 Keynote Address: What is Cultural Competency and why is it important?  
Cultural competence is the ability to understand and interact effectively with people who have different backgrounds of our own.  Cultural competence is important because without it, the opportunity to build relationships and co-exist with people becomes very difficult, if not impossible.  We will simply co-exist with people we don't understand, which can create a higher occurrence of misunderstandings, bias, and hurt feelings-all of which could be avoided with cultural competency.
In her keynote, Dr. Kimberly Martin will talk about why cultural competence is important; unconscious bias and how it works, especially in our school systems; and how we can combat bias with cultural competency development. 
Biographical Profile
Dr. Kimberly Martin is a talented administrator and diversity, equity, and inclusion specialist with over 25 year experience in higher education and student affairs.  She is also a dedicated social justice advocate and diversity consultant that is committed to issues of disparity and addressing them.
Dr. Martin holds a bachelor's degree from the University of Michigan, a master's of Business Administration from Clark-Atlanta University, and a PhD in Higher Education leadership from Oakland University.  Over her career, Dr. Martin has served in several capacities related to multiculturalism and diversity, including the Assistant Dean of Students at Purdue University, the coordinator for diversity and inclusion at Oakland University William Beaumont School of Medicine, and the director of the Cultural Center at the University of Louisville.  Most recently she served as the Director of Multicultural Programs at Missouri State University.  
Dr. Martin has served on both university wide and departmental diversity committees that address issues of bias in the retention and recruitment processes in higher education.  During her tenure with Missouri State, she was recognized for her efforts, being awarded the 2021 Womxn of Distinction Award and the 2021 Dr. Earle Doman Student Commitment award.
Dr. Martin is committed to the pursuit of equity and inclusion in whatever community she finds herself in.