Student Employment Opportunities
MSP offers on-campus employment to students who are in good academic standing. Click here to find out more.
MSP Career Services Month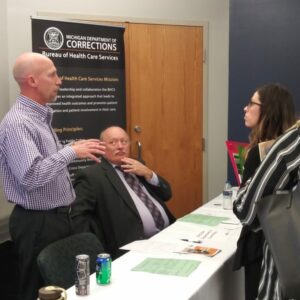 Each year, Student Engagement presents a month of activities designed to help students find a job after graduation. From start to finish, the Career Services calendar is packed with opportunities to prepare for job hunting.
Workshops include "Job Hunting with a TLLP", "Social Media & Networking", "How to Start a Private Practice", and many more.
Career Services Month culminates in the Career Fair on Friday, June 9, 2023.
Career Services 2023 Schedule 
Throughout the month of May, a variety of workshops and career prep opportunities will be offered to students. The final schedule of events will be shared in the coming months but students can expect sessions covering the following topics. 
May 1, 2023 – June 9, 2023
Resume review – Email your resume (in a Word document) to [email protected] for review.
Mock interviews – interviewing for practicum sites or jobs? Email
[email protected] to get scheduled for a practice session. 
Professional Looking Headshots – communications team will be doing headshots in the library.
Workshops
Telehealth for Mental Health Practitioners

This session will provide participants with an overview of the benefits and complexities of telehealth. 

 Compelling Cover Letters and Resumes

Get tips and tricks on what to do (and what not to do) to make your resume and cover letter stand out to potential employers.

Social Media and Networking

Join us for a presentation on how to use social media to network and create a professional online presence for your job hunt and beyond.

Billing for LLPs: Insurance

Learn about the ins and outs of accepting and billing insurance.

Post-Graduate Certificate Panel

Learn from panelists about what types of certificates you can obtain after graduation for specializations. 

Studying for BCBA

Prepare to begin the studying process for the BCBA exam. 

Job Hunting with a TLLP/How to Tackle the EPPP

Learn from an MSP alum about getting a job with a TLLP and how to study for the EPPP

Starting Your Private Practice

Learn the basics of opening and running a private practice

Job Searching and Interviews

Learn the best practices for interviewing for a job in the field of psychology.