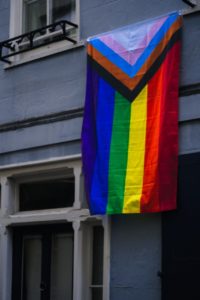 Why Pride?
June is Pride Month!  Pride month is a commemoration of the 1969
Stonewall Riot
.  Many historians identify the Stonewall riot as the start of the modern LGBTQ+ rights movement; though there were certainly events that took place 
pre-Stonewall
that also served as a foundation for the movement toward LGBTQ+ acceptance.
We Participate in Pride throughout Michigan
Pride celebrations, picnics, parades, and other events will take place 
all over Michigan
.  Pride celebrations will be held this weekend in Detroit (June 11-12). While most events take place in June (i.e., "Pride month"), events will also take place throughout the summer.
We take Pride in our Clinical Work 
We Support Pride in our Research 
We Experience Pride through Entertainment
An easy way to while expand your knowledge on the LGBTQ+ experience is to consume media created that features LGBTQ+ characters and stories. During Pride month, many media outlets put together lists like
33 books by LGBTQ authors
,
35 Best Pride Songs
,
26 best LGBTQ Movies
. Most of these projects are created by or feature LGBTQ+ individuals, so in addition to providing entertainment they increase the visibility of community members.
This blog should be viewed as a "starting point" for resources rather then a comprehensive list. We encourage everyone to spend some time through out Pride month to reflect on your attitudes, knowledge, and skills (i.e., competency) in affirming diversity in sexuality and gender identity.  If you are looking for additional resources in this topic area the following resource centers are a great place to start:
The Trevor Project
,
GLAAD
, and the
Human Rights Campaign
.
A special thank you to Dr. Dustin Shepler, a Core Faculty member in the PsyD program, for his advocacy in our community and contributions to this blog posting.