The Psi Chi Professional Development Grant is available to support the professional development efforts of MSP Psi Chi members to promote academic and professional excellence in psychology. The grant can be used for a variety of purposes including APA and Division membership fees, journal subscriptions, conference fees, and more. Courtney Cabell (PsyD 1) was awarded the grant earlier this month. 
Prior to becoming a doctoral student at MSP, I did not understand the importance of research, nor did I believe that conducting research was for me. Little did I know, my outlook would completely change within my first month of the program.
I have become immersed in scholarly research and professional development. During my first two semesters as a PsyD student, I have joined four research teams, have helped developed two psychological scales, and attended and presented at multiple conferences. I am also a member of multiple professional organizations. These have been very costly endeavors.
Recently, I was awarded the Psi Chi Professional Development Award. Receiving this award has been a tremendous relief, as it has eased some of the financial burden that comes along with advancing my research experience and professional development. I would encourage all Psi Chi members to take advantage of this opportunity and apply for this award if they incur costs related to attending conferences, joining professional organizations such as MPA or APA, or purchasing software such as SPSS. Personally, this award has assisted in funding my SPSS software, conference registration fees, and APA membership fees.
Thus far, MSP and Psi Chi have made my new found passion for research as seamless as possible, and I am beyond grateful to have been selected to receive the Psi Chi Professional Development Award.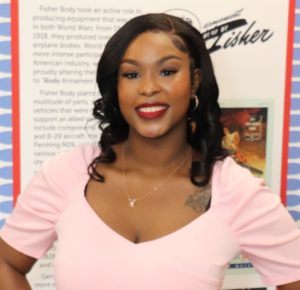 Courtney Cabell is in her first year of the doctoral program. She earned her MA degree at MSP in July 2021 and her MS degree in August 2020 at SNHU. She currently serves as a student ambassador for APA's Division 32 and sees clients part-time at a private practice. She has a passion for serving underprivileged, marginalized, and diverse populations, with a specific interest in the effects of trauma and vicarious trauma. She has a small web-based shop of her handmade, all natural bath bombs, body butters, candles, wax melts, hair oils, and beard oils. She is also the founder and CEO of Open Heart Communities, a non-profit organization dedicated to serving foster children and youth who've aged out of foster care.