Dear MSP Community,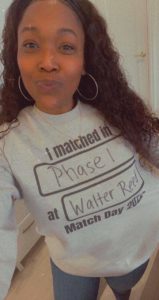 I'm beyond excited to share amazing news about our students and the PsyD program: 100% of MSP doctoral students progressing to internship next year have matched to internship sites through the Association of Psychology Postdoctoral and Internship Centers (APPIC) national matching program — in the first round! Twelve of 14 students (86%) matched to APA accredited sites while two others matched to a site currently undergoing the APA accreditation process. This is truly remarkable.
For those of you who may be unfamiliar with APPIC, the APPIC match is nationally recognized as the internship placement process for doctoral students. The country's most elite and intensive internship training programs participate in the match; the process is highly competitive.
Next year every MSP intern will have the priceless opportunity to complete their clinical training at top-notch internships of choice and in their specific areas of clinical interest. What makes this achievement even more phenomenal is that the APA Commission on Accreditation's acceptable threshold for academic programs to place students in APA accredited internship sites is 50%. At 86% we blew by the standard, even with a national shortage of internship sites!
In other words, MSP students nailed it.
We have made steady progress in increasing our match rate numbers, with 100% placement in the APPIC match over the past two years. This amazing achievement speaks directly to the extraordinary abilities of our students, the quality of our clinical training program, and the commitment of DCT Heidi Martin, Dean Shannon Chávez-Korell, and the PsyD faculty for their outstanding teaching and mentoring of students through this rigorous process. A shout out to other faculty members who wrote letters of recommendation and provided support behind the scenes, and to our staff who play a huge role in the quality and success of our programs.
Please join me in congratulating the following students who achieved this milestone and are poised to become exceptional practitioners at the completion of their programs. Your MSP colleagues could not be more proud.
| Student Name | Placement | Location |
| --- | --- | --- |
| | Wayne State University/Counseling & Psychological Services | |
| | Bowling Green State University | |
| | Oscar G. Johnson VA Medical Center | |
| | Walter Reed National Military Medical Center-Navy Internship | |
| | Michigan State University Counseling & Psychological Services | |
| | Life Skills Psychological Services | |
| | | |
| | Aleda E. Lutz VA Medical Center, Primary Care-MH Integration/Pain Resource Team | |
| | Lapeer Tarzana Treatment Centers, Youth Track (12-18 Years Old) | |
| | Christiana Care Health Systems, Women's Emotional Wellness | |
| | Wayne State University/Counseling & Psychological Services | |
| | John D. Dingell VA Medical Center | |
| | Henry Ford Health Sciences Center, Pediatric Neuropsychology | |
| | | |
With congratulations and gratitude,
President Brown