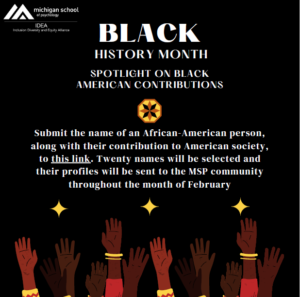 In honor of Black History Month, the Inclusion, Equity, and Diversity Alliance created a community spotlight on Black American contributions. The project, which was shared with the entire MSP community in mid-January allowed students, faculty, and staff to share the name of an important African-American figure, along with their contribution to American society. These submissions were written up into short profiles and shared by IDEA with the community via weekly emails and social media posts throughout Black History Month. As Black History Month comes to a close we're excited to share the contributions of these amazing Black people with you.
Due to the complex nature of her story, we've chosen to feature the the full IDEA profile of Henrietta Lacks, whose cells have been used by countless of researchers without her, nor her families consent, in this post. More information about Henrietta Lacks can be found here.
The full profiles of the following individuals were also shared as a part of this project, and can be found here and on the IDEA Facebook page. 
A special thanks to Farid Alsabeh, IDEA, and everyone who submitted a profile for their contributions to this project.