MSP strives to connect with alumni to find out more about the work that fulfills their passion for clinical psychology.  Life After MSP is our new column that highlights the career journey of our grads.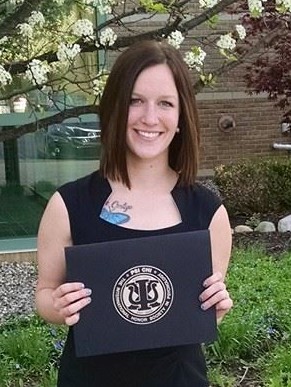 Name: Bridget Bienz, TLLP (MA Class of 2015)
Job Title: Therapist for Professional Psychological & Psychiatric Services (PPPS)
Describe your work in clinical psychology:
32 hours a week, I provide out-patient therapy to the substance abuse and co-occurring populations. The other 8 hours, I work with strictly mental health clients. PPPS is a Private- Not for Profit agency.
What do you like about your work?
I love the fact that I am able to work with a variety of people and diagnoses. The variety in the population that I see is providing me with an abundance of experience. I have a wonderful caseload of clients, some willing engage in treatment and others are court ordered, which also adds to my experience and versatility.
I also love that our agency is involved with the Drug Court in Jackson. The Drug Court in Jackson is ran by a wonderful group of mental health professionals who truly care about the people, and the judge is so kind.
I absolutely love the freedom I have in my office. No one watches over me and I get to make my own schedule which is super nice.
I think my experience at PPPS has helped me become more confident as a Therapist.
How did your experience at MSP prepare you to be successful?
MSP provided me with an abundance of knowledge. At the time, I had no idea how useful each class would be nor was I aware of how much I was truly learning.
My previous education has not seemed to be as applicable as the knowledge I acquired at MSP. The professors are dedicated to their student's success not only academically, but success in their future careers.
Are you a MSP grad with a career story to share?  Let us know what drives your passion for clinical psychology and how MSP helped you get there: [email protected]