Here at MSP, we love to connect with alumni to find out more about the work that fulfills their passion for clinical psychology.  Life After MSP is our feature column that highlights the career journey of our grads.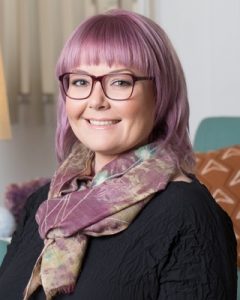 Name: Dr. Lainie Epstein, PsyD (Class of 2014, MA Class of 2005)
Job Title(s): Clinical Psychologist, Outpatient Group Practice Owner, Supervisor
Describe your career journey in clinical psychology:
After I completed my MA in clinical and humanistic psychology at the then Center for Humanistic Studies (now MSP!) in 2005, I worked for a few years at Eastwood Clinic in Royal Oak. I was on a development plan for my CAADC and working in an IOP, with substance abuse and dual diagnosis issues.
During this time, my specialty and interest in PTSD and healing after childhood trauma developed. I began to see that once people are in safe environments as adults, childhood trauma is able to come to the surface for processing and healing. And, that substance use, the ultimate tool in avoidance, can become a coping mechanism for dealing with C-PTSD.
I decided to return to MSP to get my doctorate in 2008. Toward the end of the program, I was working as a contingent therapist at Brighton Center for Recovery with an inpatient substance abuse population. I loved that job; it was multi-disciplinary and the day consisted of individual, group, didactic, administrative, and conflict/drama on unit management. Lots going on, which I enjoy.
When I graduated in 2014, I started working in private practice and billing under a psychologist I knew from Eastwood Clinic. She mentored me and taught me how to start a PLLC and credential myself. I worked under her for 2,000 hours.
After I passed the EPPP, I went out on my own, renting an office suite with fellow graduate Dr. Dana Howley and social worker Tina Louise in Huntington Woods.
It took me a good 3 years to figure out my schedule. It didn't take me long after graduation to begin seeing 15-20 clients a week, and I didn't know what my limits were, so I kept going. At one point I was seeing 32 clients a week and I was burnt out.
Talk about a turning point in your career.
For the last couple of years, my caseload has been full; I kept having to refer out a lot of potential clients. And I kept getting calls from people in non-monogamous and poly relationships and transgender people, all of whom had heard from friends that they could trust me.
Over time, I began to clearly see a need for representation for a greater diversity of clients and for therapists who people can identify with, ideally in a clinic that tells people up front that they are welcome as they are!
I have a wonderful group of friends in the field who are passionate about the issue of diversity and representation in the clinic setting and representation of black and queer and latinx folks as providers.
We decided to get together and create the place that we wished existed – The Radical Well-Being Center, opening July 1, 2019.
We will have accessible yoga for every body, a nutritionist who works outside a diet-paradigm, decolonized healing and reiki, groups for parents of transgender children, harm reduction substance use group, and a group for people coping with violence in their intimate relationship(s).  Our clinicians thus far inhabit multiple intersections and identities. We are organizing from a feminist perspective, working to flatten hierarchy and value openness and care for self as therapists and the people we serve. We are creating a community.
What do you like about your work:
I am passionate about healing from trauma and integrating parts of self that have been lost to pain for years.
How did MSP prepare you for success?
During my MA program I was lucky enough to have a placement at Kadima working with Dr. Kyle Glasgow. That was a robust training experience working with people living with chronic and persistent mental illness. Dr. Glasgow was a wonderful supervisor I learned so much from him.
And, during my doctorate I was positively influenced by Dr. David St. John as a supervisor and dissertation chair. My relationship with Dr. St. John was key to my graduating and increasing my understanding of my own whiteness and how that impacts practice.