MSP alum Betz King, PsyD will present the "Therapy Dog Certification Process," a Continuing Education Workshop on May 29, 2019 that will define and explain the practicalities of the certification process. Below, Dr. King shares her personal experience of how Paisley enriched her clinical practice. Find more information about this workshop or register here.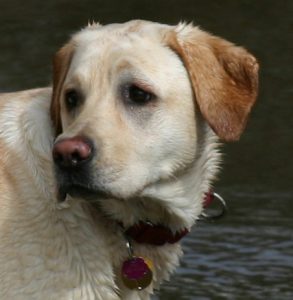 I had the joy and privilege of working with a canine co-therapist for over a decade. Paisley was a yellow English Labrador, the perfect breed and temperament to work with people.  For the most part, her job consisted of greeting clients on the way in, and then, if invited and willing, cuddling on the couch with them as they talked. 
"Invited and willing" are important, often overlooked, parts of animal assisted therapy.  Not all clients want the involvement of a dog during session, nor should a dog be expected to cuddle on demand hour after hour.  If, after greeting a client, Paisley went to her bed under my desk, it meant that she was "off duty", and that was ok.  And if a client didn't invite her to cuddle within a moment or two, she knew she should not approach them, and that was ok too.
Assuming both Paisley and the client were content on the couch, Paisley's biggest interventions were loving kindness and unconditional positive regard, but over the years, she did develop a few spectacular interventions that I never taught her.  Our office had a "no dog loveseat" which people could sit on if allergic, afraid, or unwilling to be covered in dog hair.  If a client on the 'no dog couch' was crying, Paisley knew she couldn't comfort them, so she'd lay at their feet and gently rest her head on their foot.  If a parent brought a child in, she would often get a toy from her toy box, and most of the time, give it to the child.  Yet every now and then she'd take it to the parent, and it those cases, it often turned out that the parent needed support as much as, if not more than the child. 
Sometimes, when a client had strayed from the deep work of therapy and ventured into more shallow sharing, she'd jump off the couch and go to her bed, as if she knew she wasn't needed for small-talk. She'd return when the sharing got deep again.
It wasn't always Paisley intervening with the clients.  Sometimes the clients would bring their therapeutic issues right to her.  One woman who had long struggled with taking care of others at her own expense received a traffic ticket for illegally turning into a grocery store.  She was stopping to pick up a box of milk bones, because she gave one to Paisley each week, and this kindness had gotten her in trouble, just like in her day to day life.  A teenager who wanted to become a photographer did a photo-shoot with Paisley and included the photos in her portfolio.  Several people worked through their fear of dogs with her.  When it was time for Paisley to retire, the cards and gifts she received were a testimony to the many lives she'd touched.
Animal assisted therapy is much different now.  It is no longer enough to obtain a certification and bring your dog to work each day.  Animal-assisted interventions must be diagnostically necessary and appropriate, part of a treatment plan, and documented accordingly.  Competencies and standards are still developing, to protect both animal and human welfare.  Yet at the end of the day, one thing has not changed – the thud-thud-thud of a wagging tale and a nice warm snuggle can make hard things just a little easier to talk about.
Dr. Betz King is the owner of King & Associates, a clinical practice in Farmington Hills. She served as a member of the MSP faculty from 2008-2018 and as MA Program Coordinator from 2011-2016. This course is based on the presenter's 13+ years of experience providing animal-assisted therapy and education. Dr. King offered animal-assisted psychotherapy with her yellow Labrador, Paisley, from 2005-2015 and is currently chairing the Emotional Support Animal Position Steering Committee within APA Division 17, Section 13: Human Animal Interaction.