The Inclusion, Diversity & Equity Alliance (IDEA) partnered with Sanctum House, a local nonprofit that supports the victims of human trafficking to collect essential supplies for women in need.
After just one week, our collection bin was overflowing! 
---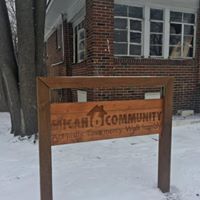 MSP students and staff volunteered their time in honor of Martin Luther King, Jr. Day on January 15 at Micah 6 Community, a local nonprofit in Pontiac, MI.
Our volunteers enjoyed a tour of the buildings and grounds before offering their services in preparing meals and painting furniture.  We even visited with some chickens who were enjoying their winter homes inside! 
---
Other News
IDEA held the first General Assembly Meeting of the new year on January 23 to plan events for semesters two and three.
Psi Chi hosted Nathan Hayrynen (PsyD 2) who facilitated a discussion "Whose Reality is it Anyway?" on the role of existentialism and meaning in psychotherapy on January 26.
Ann Smith, PsyD presented a Continuing Education workshop "Building Awareness and Preparing for Action: Domestic Human Sex Trafficking" on January 31.  In her blog preview, Dr. Smith wrote about her work in supporting victims of sex trafficking here in Michigan, "I assist therapists, attorneys, and medical professionals to more readily identify symptoms and modes of survival that are common among traumatized people, as well as provide insight and clarity regarding the tactics used to silence victims and create perpetrator trauma bonds."
In Blogs
Dr. Smith reflected on her experience of Competence (Phase 4) in the Career of a Psychologist, President Blau wrote about making Footprints in the new year, Dr. Blackstock shared his re-entry in the Live Action Role Play (LARP) community, and we celebrated the summer and fall Research & Presentations contributions by faculty and students.