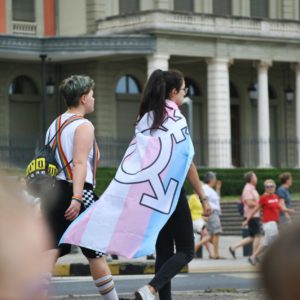 This week (November 13th to 19th) is Transgender Awareness Week, a week where community organizations and individuals work to increase visibility for transgender individuals and shed a light on the issues that members of the transgender community face. The week leads up to Transgender Day of Remembrance on November 20th, which is observed every year to honor the memory of the transgender people whose lives were lost in acts of anti-transgender violence. MSP's Inclusion, Diversity, and Equity Alliance (IDEA) is participating in this week and the entire MSP community is encouraged to join them. 
They have put together the following resources to celebrate Transgender Awareness Week which were shared with current students, faculty, and staff earlier this week.
HAPPY TRANSGENDER AWARENESS WEEK!
As we head towards the Transgender Day of Remembrance, this Saturday, IDEA would like to celebrate Transgender Awareness Week (November 13th to 19th)! We are participating in this week by helping raise visibility for transgender people and address issues the community faces.
Below we have provided ways to celebrate Transgender Awareness Week and beyond.
GLAAD provides "Tips for Allies of Transgender People" 
Some of the tips they provide for allies are:
"You can't tell if someone is transgender just by looking."

"Respect the terminology a transgender person uses to describe their identity."

"Avoid backhanded compliments and "helpful" tips."

"Don't make assumptions about a transgender person's sexual orientation."

"At meetings and events, set an inclusive tone."
Transgender individuals are becoming more and more visible in the media. We have provided TV shows and films that portray transgender individuals and their experiences.
"Pose," a TV series on FX

"The L Word: Generation Q," a TV series on Showtime

"Euphoria," a TV series on HBO

"Lingua Franca," a movie on Netflix

"The Trans List," a documentary on HBO
To end Transgender Awareness Week, join IDEA and the MSP community for a vigil to observe Transgender Day of Remembrance. We will be coming together at MSP (Building A parking lot) this Saturday, November 20th at 1 pm to commemorate the transgender individuals' lives lost this year.
Thank you so much IDEA for putting together these resources. If you're looking to learn more about transgender issues check out our previous blogs on Transgender Day of Visibility, Working with Transgender Clients, and community organizations including Transgender Michigan, and Stand with Trans.
Tara Pope, MA is a PsyD candidate at MSP. She is currently serving as the programming chair for IDEA. Tara provided the IDEA resources for this blog to the MSP community.