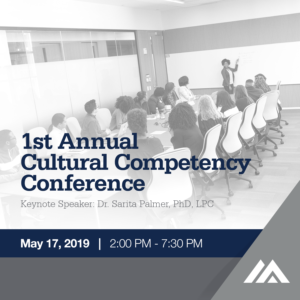 MSP is pleased to announce that we are hosting a First Annual Cultural Competency Conference (CCC) on campus!
The CCC will host four rounds of concurrent 50 minute presentation sessions followed by a Keynote Address from Dr. Sarita Palmer, PhD, LPC, NCC, Assistant Professor and Program Coordinator of the Clinical Mental Health Counseling program at Howard University.  
This conference is open to students, psychologists, and members of the public. 
The CCC is designed to give students, from MSP and other area schools, to gain the essential cultural competency skills necessary for clinical practice. Additionally, the CCC will also give students and alums the opportunity to share their knowledge and skills in a specific cultural competency.  
Schedule of Events:
1:00 – 1:50 PM    Check In
2:00 – 2:50 PM    Round 1 – concurrent sessions
3:00 – 3:50 PM    Round 2 – concurrent sessions
4:00 – 4:50 PM    Round 3 – concurrent sessions
5:00 – 5:50 PM    Round 4 – concurrent sessions
6:00 – 7:30 PM    Dinner & Keynote
Registration is $25. Students or MSP alumni will receive $5 off. Any presenters will also receive $5 off.
This event is a collaboration between the Inclusion, Diversity & Equity Alliance (IDEA) and the Psi Chi Chapter at MSP. Questions? Contact Carrie ([email protected]).