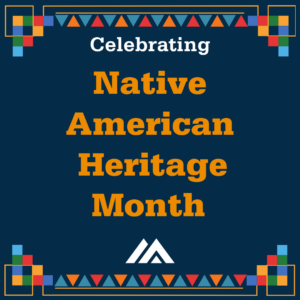 Native American Heritage Month* is observed every November to honor the rich culture and traditions of  Native Americans. It's also a time to celebrate Native culture through the exploration of art, music, food, and more. While the contributions, accomplishments, and culture of Native Americans should be acknowledged and celebrated all everyday, this month provides a time to renew your focus on learning more about the Indigenous community in your area. We've complied a list of ways to help get you started celebrating this Native American Heritage Month.
Explore Native Heritage
Learn Native History
Buy From Native American-Owned Business
Native-led Organizations to Support
Other Ways to Support
Most importantly keep learning and reflecting and remember that the challenges Native communities face are ongoing, not just history. Incorporate anti-racism and anti-colonialism into everyday action, not just during Native American Heritage month.
*Native American Heritage Month is the title used in official government proclamations for the month and therefore the purpose of this blog. However, it is important to acknowledge that some members of the community prefer the usage of other terms such as Indigenous, First Nations, etc. The best practice is to use specific tribal names but this is not always possible. For more information read The Impact of Words and Tips for Using Appropriate Terminology.