Dr. Nicole Budry-Law (MA '10, PsyS '12, PsyD '14) is an adjunct faculty member teaching a section of Professional & Scientific Ethics in the MA program this semester.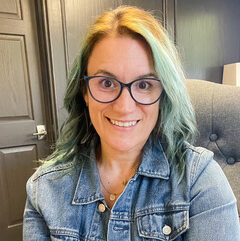 Where did you grow up?
I grew up in Metro Detroit, but I lived in Brazil for some time after completing my undergraduate degree.
What or who influenced you to study psychology?
My son Henry and the therapist that helped me make meaning out of his life and death.
What are your research and/or clinical interests?
I have so many! I am a reproductive health psychologist, so I love any intersection with hormones/reproductive health and relationships. In particular, late-term pregnancy loss, fertility (gestational evaluations) and transgender youth are my main clinical interests. I am an executive board member for Six Feet Over and am interested in any research on suicide survivors post-vention work. Additionally, I am on the board for the Michigan Association for Gifted Children and I love working with neurodivergent kids and their families.
What appeals to you most about teaching at MSP?
I love the energy and creativity that students bring. I learn as much from them as they do from me.
What's your favorite non-academic book and why?
It would either be Haroun and the Sea of Stories by Salmon Rushdie and/or The Velveteen Rabbit by Margery Williams. I love the way children's stories simplify complex issues. In the Sea of Stories, Haroun works through his trauma through complex questions of culture, family, magical thinking, and time. It explores the power of storytelling in healing, and the necessity of creativity in trauma work. He asks the question "What's the use of telling stories that aren't true?"
As for The Velveteen Rabbit, I will always remember explaining to Sid Berkowicz that it was my favorite because "when you love someone enough, and they are old and shabby, they become real and they can never become unreal again" to which he replied, "I suppose you don't need to answer the question of how you knew you wanted to become a therapist."
What advice would you like to share with incoming or current students?
Be Curious.
There are only questions and more questions so let go of having the answers.
Remember that a disproven hypothesis is useful data.
Oh, and translate…in other words learn how to speak naturally and write academically.