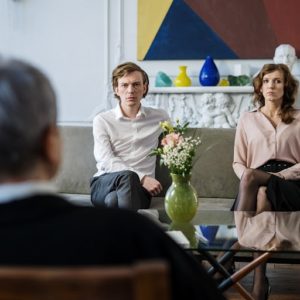 With Career Services Month drawing to a close, and graduation right around the corner, many students are beginning to consider what their next steps are as they begin (or continue) their careers. While many students will enter the field as therapists, there are many other fulfilling uses for a graduate degree in psychology.
With a Masters degree in Clinical Psychology, you have many options to further expand your education and specialize with specific populations.  There are many programs you can attend to gain further certifications, such as training in a specific type of therapy.  There are also some great opportunities to work outside of the therapy room, including:
Working in business: Industrial and Organizational Psychology (I/O psych) is a quickly growing field as large businesses are catching on to the importance of psychology in the workplace and how it can increase sales, company success, and build a positive working environment.
Law Enforcement: forensic psychology and police psychology can involve working with law enforcement, conducting risk assessments, mental state examinations, and police instruction and training.
Marriage and Family Therapy: working with families can occur in a variety of settings, including in private practice therapy, as well as in schools, hospitals, courts and prisons, community mental health centers, and government agencies.
Victim Advocacy: Working with victims of crime to navigate the experiences following the event, as well as guide them through the legal system.  Forensic psychology is useful in this area.
Sports Psychology: work with athletes to become better at their sport, as well as work through team dynamics.  Learn more about what makes sports so desirable and help athletes become more successful.
With a PsyD in Clinical Psychology, many doors are open for you.  Following your completion of the program and dissertation, specialization with specific populations can further your degree.  Here are some unique paths you could take:
Neonatal Psychologist: work with infants and families in hospital settings, conduct research to further understanding of beginning of life needs, and provide mental health services in NICU (neonatal intensive care unit) settings
Neuropsychologist: specialize in the psychology of the brain and its systems.  Common careers include working with individuals with traumatic brain injury
Forensic Psychologist: work with the judicial system and similar organizations to utilize psychology to address public safety issues and testify in court cases.
Psychopharmacologist:  there are currently 5 states in which psychologists can become certified to prescribe medication (Louisiana, New Mexico, Illinois, Iowa, and Idaho).  Work with clients in psychotherapy as well as prescribe and manage their medication.
For more information on unique things to do with your ABA certificate, check out our blog: What Can You Do With an ABA Certificate.
A special thanks to our student engagement graduate assistant, Hannah Riesser (MA with ABA '21, Current PsyD I) for her contributions to this blog posting.