Since my miniature goldendoodle, Ozzie, was 4 months old, we regularly visited a nursing home near our house with the Pet-A-Pet Organization. Ozzie was just a little guy with a big presence at the nursing home. As soon as we pulled into the parking lot, Ozzie squealed with excitement. I think he knew where he was, what he was going to do and whom he was going to see.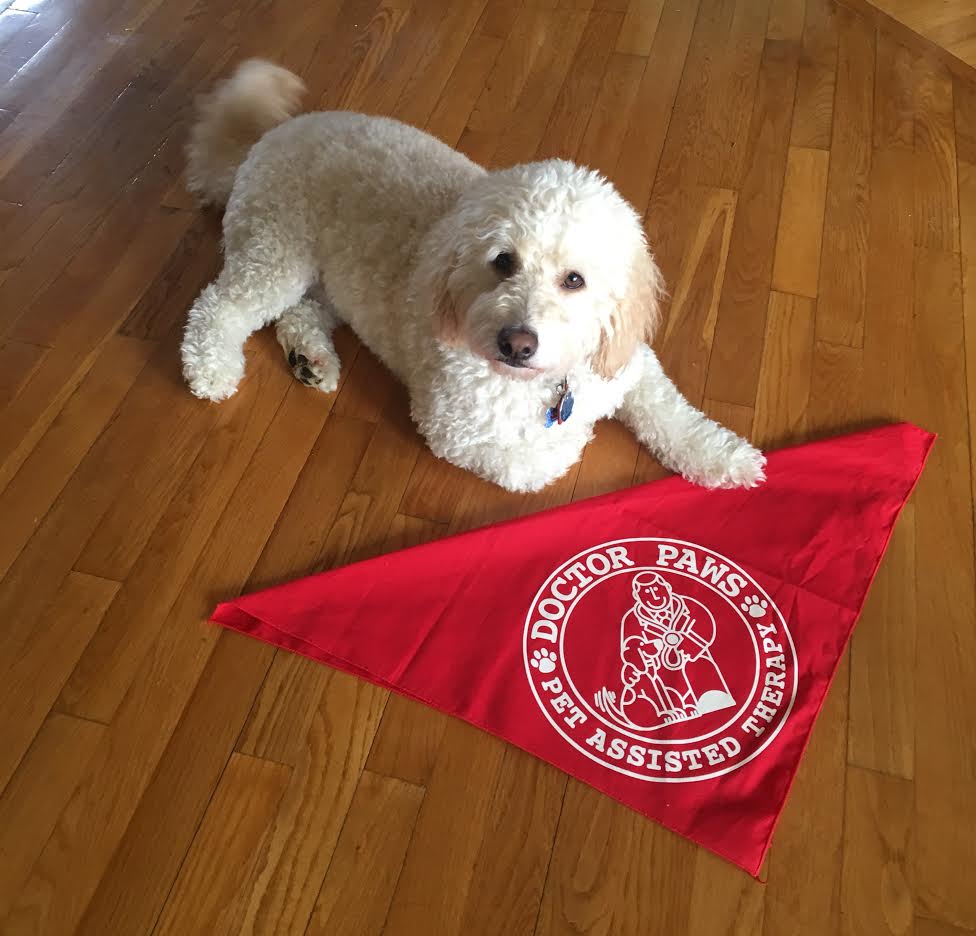 After just one or two visits, the residents told us they looked forward to his visits. Some of them stocked their walkers with dog treats; ready to reward Ozzie after he showed them a new trick he was working on, while others just rewarded Ozzie for being Ozzie.
It did not take long for Ozzie to track which residents had treats in their walkers and he quickly developed favorites. He loved his visits to the nursing home. I loved how content Ozzie seemed while he was there, sharing his love with a big smile stretched across his face and I adored how happy he made the residents. I knew it was an activity that would be a part of Ozzie and my futures.
After a few months, it was difficult to maintain regular visits to the nursing home with Ozzie in coordination with my schedule. Unfortunately, we had to stop visiting the nursing home. Ozzie still made people happy by greeting them during our walks in the park, but it was just not the same.
As the academic year pressed on, MSP brought in Dr. Paws Therapy Dogs to provide stress relief to students nearing the end of a semester. I visited with the dogs for the duration of their visit and asked the handlers questions about the process for becoming certified as a therapy dog team.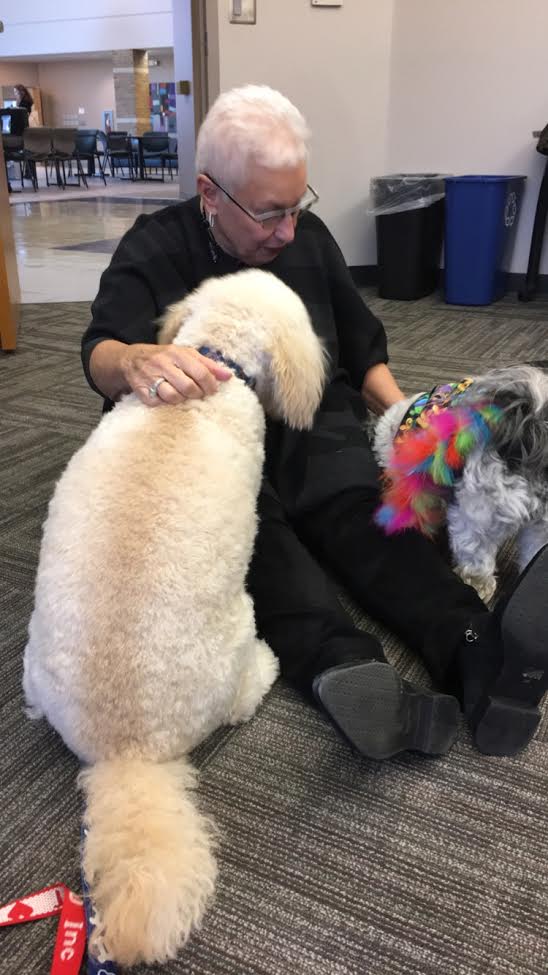 The requirements for the Alliance of Therapy Dogs test seemed very attainable for Ozzie. He basically needed to be well-behaved, have an interest in visiting with people, and be comfortable doing so. We worked toward mastering skills associated with the AKC's Canine Good Citizen Test and passed with ease. This part was not required for the agency we went through, but I wanted to make sure he would not have difficulty with passing the therapy dog test.
The therapy dog test consisted of 3 supervised visits at a local hospital. The evaluator was largely observing Ozzie's temperament, behavior around many people and machines, reaction to other animals, and response to the people he was visiting. I was nervous, but Ozzie was all smiles. He even decided to impress the evaluator by throwing in a few tricks during his visits.
Since Ozzie got his therapy dog certification in January, we had the opportunity to join the Dr. Paws group when they came back to MSP in February to provide stress relief to the students. The joy Ozzie and the other dogs brought to the MSP community filled my heart and reminded me of our past experiences.
We are so happy to be officially recognized as a therapy dog team through the Alliance of Therapy Dogs. We go on visits organized through the Dr. Paws Therapy Dogs group and are looking forward to being a part of a Make-A-Wish event this summer. It's a blessing to be able to share Ozzie's love with the community. Ozzie and I strongly encourage anyone thinking about doing therapy dog work to reach out, ask questions, and give it a try!
Jessica Dluzynski, MA, TLLP is in her fourth year of the doctoral program.  In addition to being part of a therapy dog team, Jessie also serves as the President for the Psi Chi chapter at MSP.