Aleah M'Poko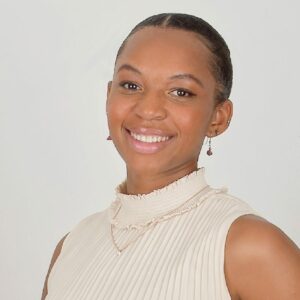 Hometown: Pretoria, South Africa
Program: PsyD
Book I would recommend: Switch On Your Brain by Dr. Caroline Leaf
Favorite Quote: "Now faith is the substance of things hoped for, the evidence of things not seen." – Hebrews 11:1
What would people be surprised to know about you? 
People might be surprised to know that I grew up in South Africa and spent my first year of the MA/ABA program in a different time zone.
Name a cause you are passionate about.
I am passionate about helping people develop and maintain healthy relationships. This includes relationships with people – whether familial, romantic, platonic, and/or professional – as well as relationships with thoughts, objects, and feelings.
Why did you choose MSP?
My experience in the MA/ABA program convinced me that MSP's PsyD program is best suited to help mold me into the clinician I seek to be.
What do you want to do with your degree?
I plan to use my degree to serve individuals dealing with a diverse range of issues, both physical and psychological. My goal is to better understand and treat these issues in a natural, minimally invasive, and holistic manner using a multidisciplinary approach. I also greatly desire to use my degree and professional skills to become further involved in Christian ministry.
What are you most looking forward to about your program?
I look forward to finding out just how much I still don't know, about psychology and about myself.