This year my wife and I will spend Thanksgiving by ourselves. We're making our traditional recipes, but the most important ingredients won't be at our table. I'll especially miss holding hands with my grandchildren during our little ritual of stating what we're each thankful for. Their answers crack me up: "I'm thankful I don't have to go to school tomorrow," and "I'm thankful Spiderman keeps me safe."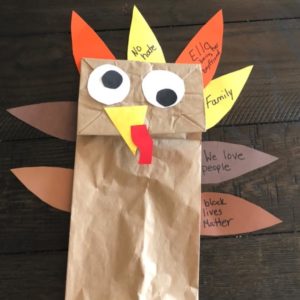 There's so much I miss these days and, to be frank, it's difficult to connect to feelings of gratitude. Yet I know I have SO much to be thankful for: my family and friends are healthy, I get to do work I love, we're delivering mental health services to those who previously went without, our students, faculty, and staff are contributing to the field in meaningful ways, and we're still providing the high-quality education of which we can all be proud. That's what I know. What I feel is the loss of personal connection that brings me joy at the holidays and every day.
For most of us, this year thankfulness is competing with some stark and brutal realities. Those who are healthy know others struggling with COVID and the death of loved ones. Those who are financially secure know too many others who are not. And while we may have been taught that Thanksgiving is a time to celebrate American heritage, we now understand the historic truths of this holiday.
How can we counter these negative feelings? Maybe we don't need to. Maybe we can find a way to experience our sadness but not be overcome by it. Maybe we need to be where we are and have a second helping of pumpkin pie with double whipped cream. Maybe we can personally integrate what we tell our clients – that it's possible to think one way and feel another.
Maybe it's time to give ourselves a break.
At this moment I'm thankful for the next few days of rest. I'm trying hard to reframe my disappointment in cooking for only two to appreciation for the respite that will bring. On Thanksgiving Day we'll hold hands and say what we're thankful for (which is a LOT), and try to connect to our feelings of gratitude that seem just out of reach. We'll focus on the promises of the new year while acknowledging that the current one hasn't been so great.
I hope each and every one of you are also able to enjoy a bit of much-deserved peace over the next few days – a relaxing of the mind and spirit that allows us to refuel and find the positivity that may elude us at this moment. And please do have that second piece of pie; in my house it'll be more cannoli!
With gratitude for all of you,
Dr. Fran Brown
PS: Check out this article about what our brains are going through right now; I'm relieved to know I'm not alone, and to understand the science behind what I've been experiencing: 10 Ways Your Brain Reacts to Uncertain Times.