---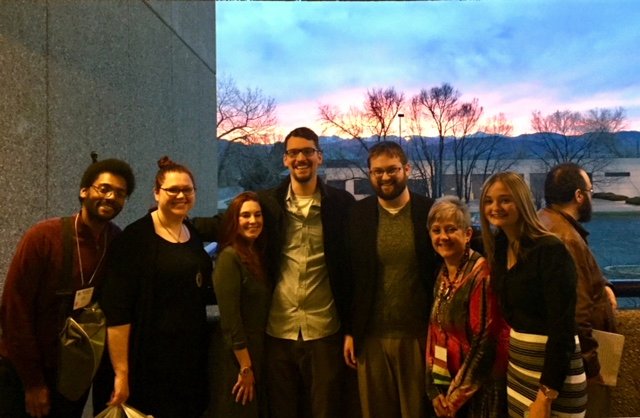 MSP students and faculty attended the Society for Humanistic Psychology (APA Division 32) Annual Conference March 22-25. 
Division 32 is always a wonderful opportunity for the MSP community to network and share research with other Humanistic psychologists from around the country. 
---
Student Engagement presented two interactive events designed to inspire creativity on campus.
On March 28, we enjoyed a relaxing time with therapy dogs from Doctor Paws Pet Therapy.
The next day, March 29, MSP welcomed Music Therapist Roberta Justice to share her expertise in a variety of music, art, and dance therapy techniques.  Professor Justice teaches in the Music therapy program at Eastern Michigan University as a Part-time Lecturer Faculty and has over thirty years of clinical experience in inpatient, outpatient and partial hospital programs, nursing facilities and special education settings.  
---
Other News
MSP was pleased to congratulate Dr. Dustin Shepler (Core Faculty), Jared Smendik (PsyD 2), Kate Cusick (PsyD 4), and David Tucker (PsyD 4) on the publication of Predictors of sexual satisfaction for partnered lesbian, gay, and bisexual adults in the APA Division 44 Journal of Psychology of Sexual Orientation and Gender Diversity.
Melissa Farrell, PsyD, adjunct faculty member, presented a Continuing Education workshop, "Treating Transgender and Gender Non-Conforming Youth" on March 16.  Dr. Farrell has extensive experience working with the LGBTQ+ population in her clinical practice; in a blog she wrote leading up to the workshop, she explained how the words we use to describe a group of people are important. 
In Blogs
Dr. King shares the next installment in her blog series The Seasonal Psychologist with On Imbolc and Ostaraand Angel McKissic (MA) offers her advice in the lastest How I Make It Work feature.