MSP reaches out periodically to alumni to discover more about the work that fulfills their passion for clinical psychology.  Life After MSP is our feature column that highlights the career journey of our grads.
Name: Scott MacInnis, MA ('18), TLLP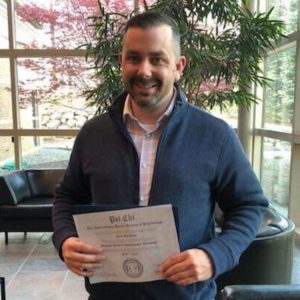 Job Titles: Crisis Clinician (Common Ground), Therapist (WiseMind, PLLC), Psychometrician (Harold J Love and Associates), Volunteer Crisis Intervention Team Manager (The Father Right's Movement)  
Describe your work in clinical psychology:
As a Crisis Clinician at Common Ground, I perform level of care and emergency assessments for individuals in local emergency rooms or brought into the crisis center. I am also a clinician on Oakland County Crisis Intervention and Recovery Team (OCIRT). We assist clients with providing support and navigating the community mental health (CMH) system with the goal of continuing therapeutic services through a local provider. 
A few nights a week I am a contract psychotherapist with Wisemind, PLLC. This is a small (but growing) practice owned and directed by another MSP alumn, Dr. Toni Crocilla. Recently, Wisemind switched its core focus to the treatment of justice-involved individuals. My caseload consists of juveniles, adults, and couples suffering from anxiety, depression, PTSD, adjustment disorder, relationship issues,  SUD, and those re-integrating into the community from periods of incarceration.
My work with Harold J. Love and Associates involves pre-employment and fitness for duty assessments for first responders. As if this is not enough work, I also volunteer as the Crisis Intervention Manager for The Father's Rights Movement (TFRM). I manage a team of crisis interventionists that engage with fathers (and sometimes mothers) in crisis who are separated or alienated from their children due to custody disputes and divorce. 
What do you like about your work?
With all of my different roles, I feel very privileged to be involved in others' lives in such pivotal moments.  Working with Common Ground and TFRM provides the challenge of de-escalating those in crisis and providing hope to the most vulnerable populations. As a therapist with Wisemind, I enjoy the therapeutic relationship that is built with my clients and watching them progress towards their treatment goals.
In performing the pre-employment psychological assessments for first responders, I am allowed the opportunity to engage with individuals at the beginning of their careers. The psychological exam is usually the last step in a long hiring process. I enjoy being able to bestow to the soon to be police officers, corrections officers, dispatchers, and firefighters the importance of maintaining their mental health as a crucial part of a successful career as a first responder. 
How did MSP prepare you for success?
I truly believe in the humanistic approach. Working in crisis, I have to quickly establish trust so that clients feel comfortable to share their stories with me. MSP instilled in me the non-judgmental, empathetic approach that is crucial in allowing others to open up.
So much of my classes and training are relevant to my professional roles. I am thankful for Dr. Blackstock's addiction course as so many of my clients have co-occurring disorders. I can spot existential themes in my clients presenting problems thanks to Dr. Bach's existential psychology course.
My practicum experience has allowed me a foundation for the clinical skills necessary to treat my therapy clients. The testing courses have prepared me for my role as a psychometrician. My cohort allowed me to gain perspective from other's experiences.
My experience at MSP has given me a solid foundation for continued professional success.