On Saturday, January 30, 2016, I attended The Integrative Psychoanalytic Society Conference, "Humanizing Psychoanalysis III." I delivered a presentation on heuristic research and social anxiety. I found the conference to be an enriching experience, both professionally and personally. The atmosphere of the conference held warmth and congeniality as attendees provided feedback and support to the presenters. I felt supported, encouraged, appreciated, and admittedly, somewhat scared as I spoke on the heuristic research process.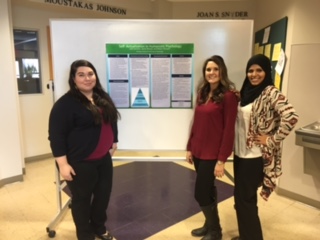 The intention of my presentation was to advocate heuristic research as a viable means to study psychological phenomena. I used my personal experiences with social anxiety as an avenue to explain the seven concepts and six phases on the heuristic research process. I believe that heuristic research rigorously examines the reflective process of taking in information. This dredging of the psyche lends itself well to depth psychology and psychodynamics.
Additionally, heuristic research has connections to epistemology through the contemplations of the relevance and validity of intuition. Heuristic research brings an internal dialogue that examines intuition and creates a meaningful examination of the experience, both abstractly and philosophically. The blending of philosophy and psychology has always been a personal interest of mine.
During my presentation, I felt the familiar yet uncomfortable twinge of nervousness. The audience was immensely encouraging, offering me a sense of safety and acceptance as I spoke. The audience appeared engaged in the discussion on the application of heuristic research with psychoanalytic concepts.
In addition, Dr. Franklin Sollars presented on psychoanalytic mysticism in theory, application, and history. Dr. Sollars also spoke on radical psychic democracy, which is treating each thought as an honored guest. Dr. Dana Howley, Suanne Zager, and Dr. Kevin Keenan spoke about a fascinating case accompanying in-depth examples of counter-transference. Dr. Odessa Despot discussed a client's development of self-determination and identity, while thoughtfully reflecting on personal experiences. Jodi Sanchez, Jamie Sharpe, and Ahlam Almawri exhibited a poster on the history of self-actualization. They discussed a myriad of projects and personal interests for further studies on self-actualization and Maslow's pyramid. The presentations each enhanced my understanding of psychology and the therapeutic process. Their questions were thoughtful and reflective.
I would like to extend my gratitude to Kate Caddy and Dr. Betz King for their assistance in helping me prepare this presentation by offering guidance and support. The atmosphere and cordial response from the audience has empowered me to want to participate in other conferences and research symposiums. I would like to begin working on a conceptual heuristic study of how grieving the loss of a loved one influences dreams. I encourage students, faculty, and alumni to attend future conferences for personal and professional development.
Nathan Hayrynen, MA Student