A message from President Brown:
The MSP Community is mourning the loss of our dear friend, Dr. Sid Berkowitz, who passed away on July 31, 2022 at age 97. His funeral arrangements are private. All who knew Sid loved him; he modeled what it means to be a humanistic psychologist and, more importantly, taught us how to be better human beings. Below Co-Founder and President Emerita, Dr. Diane Blau, offers a tribute to his memory.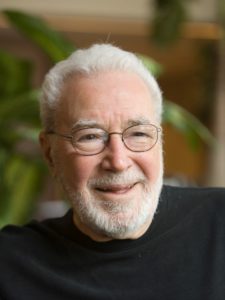 Sid Berkowitz, ultimate teacher and clinician, dedicated colleague and friend, passed away Sunday, July 31, 2022.  There are not adequate words to capture Sid's wisdom and spirit. The superlatives would fill pages and still would not illustrate his remarkable qualities.
The only way to speak of Sid is in personal terms because that is how he wanted to be known. Sid insisted, "The personal is professional."
Frankly, I thought Sid would live forever. He exuded such effervescent vitality that he appeared ageless.  Sid had a warmth and radiance that drew everyone to him and he embraced everyone who came into his circle. He was the consummate model of caring and presence.
Over his many years of dedicated service, countless family, friends, students, and clients shared their paths with Sid. All were the fortunate beneficiaries of his kindness and regard.
Many will feel bereft at Sid's loss, but all will feel grateful for having known him. His brilliant light will ever shine within us.
Diane Blau