Each year at graduation, two students (one MA, one PsyD) are awarded the Marjorie Scott Scholarship for Excellence (MSSE) in recognition of excellence in academic achievement. Students are invited to apply during third semester, and the winners are announced during MSP's annual commencement ceremony.
We are delighted to announce that Aber Abdulle (MA) and Michelle Hodges-Pietryka (PsyD) are this year's recipients! Aber and Michelle were honored during this year's commencement ceremony. 
This year's MSSE master's award recipient is Aber Abdulle, an outstanding student in MSP's Master's of Arts in Clinical Psychology program.
As an international student, Aber has shown outstanding perseverance by not only attending, but excelling in her program all while adjusting to life in a new country. She immediately became involved in the MSP community serving as a teaching assistant, clinical training assistant, and student ambassador.  While serving as a student ambassador, Aber worked hard to help other international students adjust to life at MSP. She has also been an integral member of a research team led by MSP faculty where she worked on a literature review and the exploration of lines of inquiry. Outside of the research team, Aber is currently in the process of submitting her own research proposal to the Network for International Collaborative Exchange.
Beyond the walls of MSP, Aber has demonstrated her commitment to working with diverse populations in a clinical setting. Throughout her internship at Southfield Mental Health Associates, she has been able to utilize her knowledge of the Arabic language to provide meaningful services to ther clients who are immigrants and refugees. Aber excelled in this role, and she became the Community Advisory Board Facilitator for the site. She is a prime example of someone who truly lives MSP's core values.
As noted in Dr. Buzolits' recommendation, "Aber demonstrates excellent clinical skills in class through her perceptive questions, her deep understanding and knowledge of multicultural and trauma psychology. She has contributed to her practicum site though designing and co-facilitating a skill-based group, creating a community advisory board, creating weekly material for social media dissemination to help foster capacity building and community resilience."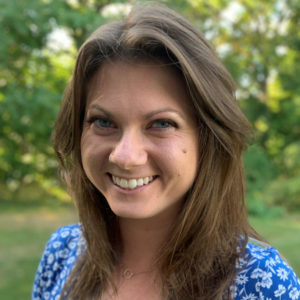 This year's recipient of the MSSE PsyD award is Michelle Hodges-Pietryka, an outstanding student in MSP's Doctor of Psychology program and an alumna of the Master's of Arts in Clinical Psychology program.
Michelle is a first-generation college student who has excelled in her academic career. From the time she began her graduate studies at MSP, Michelle immediately stood out as a leader, taking on the roles of student ambassador, teaching assistant, Admissions and Student Engagement graduate assistant, and several positions within MSP's chapter of Psi Chi, the International Honor Society in Psychology. Michelle made lasting contributions to MSP through her work as the Psi Chi chapter president. She developed the Member of the Year Award and organized a COVID-19 Relief Fund for students who were struggling financially during the pandemic. This led to MSP being the recipient of Psi Chi's Model Chapter Award.
Outside of campus life, Michelle has shown a dedication to deepening her understanding of psychology through a variety of research and clinical experiences. She was a member of two research teams at MSP and completed practicums at a community mental health clinic, psychiatric hospital, and at correctional sites. Most recently she completed her internship at the Aleda E. Lutz Department of Veterans Affairs Medical center. Michelle is an excellent example of somebody who has taken advantage of every opportunity in order to become the best clinician possible.
As noted in Dr. Callan's recommendation, "Demonstrating her determination and grit, Michelle achieved success academically as well as assuming leadership positions both formally and informally with her cohort. Her strongly held values of consistency, persistence, and resilience, learned from her parents, guided her accomplishments."