Dr. Adam Duberstein (MA '17, PsyD '21) is an adjunct faculty member teaching Ethics in Professional Psychology in the PsyD program this semester.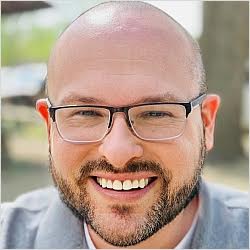 Where did you grow up?
I grew up in Clayton, Ohio, which is a small town northwest of Dayton, Ohio.
What or who influenced you to study psychology?
Originally, I took psychology to satisfy an undergraduate general education requirement.  I took my introductory psychology class at a community college.  The instructor was a great teacher who helped me take command of the material by showing me how I could apply psychological principles in everyday life.  I took a roughly 15-year career detour from psychology and I decided to come back to it because of memories of that original intro class!
What are your research and/or clinical interests?
Primarily, I'm interested in the intersection of psychology and public policy.  I believe that good public policies foster good mental health, and I believe that a good knowledge of psychology can shape excellent public policies.  I'm also interested in the ethics of psychology, qualitative research methods, multicultural issues, trauma, and life transitions.
What appeals to you most about teaching at MSP?
The students are bright, engaged, and eager to improve the lives of others.  Plus, they generally laugh at my jokes.  What's not to like about that?
What's your favorite non-academic book and why?
My favorite non-academic book is The Adventures of Huckleberry Finn.  I love Huck's firebrand nature and his spirit!
What advice would you like to share with incoming or current students?
Build positive relationships with your fellow students, your faculty, and your practicum supervisors.  Some of my closest friends are fellow MSP alumni, and the practices where I currently work are managed by a former professor and a former practicum supervisor.