Here at MSP, we're proud to offer a combined degree program in which students can receive a Master of Arts in clinical psychology with a concentration in applied behavior analysis (ABA). Students of this program go on to pursue careers in a wide variety of fields. Amber Perry, a 2020 graduate of the program, blends her knowledge of ABA and clinical psychology in her role as a Board Certified Behavior Analyst (BCBA).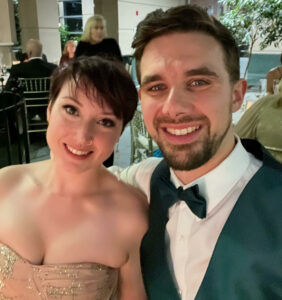 Name: Amber Perry, MA, BCBA, LBA
MSP Program: MA with ABA concentration
Occupation: BCBA at ABA Interventions

What led you to study psychology and Applied Behavior Analysis?
I originally sought to return to my academic roots in psychology after I completed my master's degree in early childhood education as my bachelor's degree is in psychology.  When I attended a meeting with the admission coordinator, I was informed of the ABA program that was recently added to the curriculum.  I honestly had no idea what ABA was, but went with it, all the same!  
What type of setting do you work in right now?
I currently work at a small clinic where I oversee teams of registered behavior technicians (RBTs) and their work with kiddos who have been diagnosed with ASD, develop behavior support plans and treatment plans, and work with parents, teachers, and other significant others in learning principles of ABA and how to implement it in home and school settings. Also, thanks to my love for academic writing, I've become my clinic's report auditor and proofread and edit all progress reports written by the other Behavior Analysts (BAs).
What led you to this career path?
It was a bit accidental, really.  As I mentioned earlier, I had no clue what ABA was when starting the program.  I already had a love for psychology due to my undergraduate program; however, as I continued working as a behavior technician and learned more about the field of ABA, everything fell into place and felt right. When I was working towards my practicum experience for the clinical psychology path, I found a love for testing and diagnosing. I'm planning to begin the admissions process for a PhD in clinical psychology within the next 2 years and have already discussed the possibility of adding an assessment department with my clinical director!
What have you found are the benefits of having a background in both ABA and clinical psychology as opposed to just one of the two areas?
Coming into my current job with my background has been incredibly beneficial.  With the increased need for soft skills in our field, that is a strength that I bring to my clinic.  I have worked with many RBTs, fellow BAs, and parents who have needed to talk out the strong feelings that are common with working in this field and with the population we work with.  Burnout and self-care are two of my valued points of research and I'm incredibly excited with the amount of research done in ABA within the last two years. I enjoy being able to combine my experience with humanistic psychology with ABA, as ABA is everywhere! We just need to find the right balance of being compassionate and empathetic along with data-driven and evidence-based!
How does your knowledge of ABA influence your work?
It's the basis of what I do, currently.  Looking into the possibility of venturing into testing and diagnosis, ABA will be incredibly beneficial there as well.  It's all about looking at the environment and understanding how changes that are made can have quite an impact on a person's behavior.  I love using ABA when I discuss self-care and burnout strategies with my practicum students because that's all about looking at the environment to promote behavior change as well!
Are there specific skills interventions or principles that you use often?
One thing I love that has happened frequently since becoming a BCBA has been using my creativity to individualize my kiddos' behavior plans or skill acquisition programs to only realize that it can be directly tied to a behavior analytic principle! There are many principles that I use; however, my most common go-to is differential reinforcement! I have used DRA, DRO, and DRI so many times over the past two years! Pairing procedures are also a must-have! When I explain it to my RBTs and parents, I talk about how important it is to respect or even like the person you are working for; otherwise, you won't want to do anything with them or for them!
What advice would you give someone considering applying to the MA/ABA or ABA certificate programs?
ABA isn't just for individuals with ASD. I have worked with many clients who have received an ASD diagnosis in order to receive services but have presented signs and symptoms aligned more with ODD, OCD, global developmental delay, etc.  ABA has still been incredibly effective for them as well.  I would advise anyone joining the field to consider their niche and passions.  As they get deeper into their program and understanding of ABA, consider how it could be used as an effective treatment for their population!