Each year at graduation, two students (one MA, one PsyD) are awarded the Marjorie Scott Scholarship for Excellence (MSSE) in recognition of excellence in academic achievement. Students are invited to apply during third semester, and the winners are announced during MSP's annual commencement ceremony.
We are delighted to announce that George Chapp (MA) and Evan MacAdams (PsyD) are this year's recipients! George and Evan were honored during this year's virtual graduation. Below are excerpts from each of their faculty recommendation letters for the MSSE.
Academically, George consistently performs at a level that distinguishes him as an outstanding student. George's written work evidences critical thought [and] self-reflection… his ideas and questions consistently elevate the level of discourse. George is respectful, honors differences, and sees potential in clients with whom he
works.
MSP Core Faculty, Lee Bach, PhD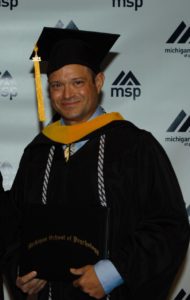 Evan MacAdams epitomizes the qualities inherent in the Majorie Scott Scholarship for Excellence. Not only has she excelled in all aspects of academic and clinical endeavors, she has a generous and kind spirit and delightful personality…She is an ideal and admirable candidate.
President Emeritus, Diane Blau, PhD