February is the shortest month of the year and is not the only time I celebrate Black Herstory/History. Personally, I believe that every day of the year is worth observing the multiple contributions of people of African descent who were brought to America against their will. I am a descendant of enslaved Africans and realize that my ancestors that suffered from institutional slavery were psychologically damaged and traumatized by how they were treated by slaveowners and others of European descent. That same damage was transmitted from generation to generation, and continues today.
Prominent psychologist Dr. Joy Degruy conducted some extensive studies into the effects of this trauma and named it Post Traumatic Slave Syndrome. Her lectures can be found on YouTube and should be a part of any school of psychology curriculum. The fact that such a group of people endured and survived this most abominable human tragedy in American history/herstory is a testimony of strength and resilience. As psychologists we must remember to acknowledge the history/herstory as it relates to the anger and pain felt by today's Black community members, and not to minimize what they are experiencing in reaction to the systemic racism that continues to take place in this country.
Realizing the effects of this historic trauma is what partially prompted the founding of the Association of Black Psychologists. It was April 1968, in response to the assassination of Dr. Martin Luther King, that a small group of Detroit area Black psychologists met at a Detroit restaurant on Woodward called Mr. Mikes. They decided that it was time to form an organization that could affect social change through Black perspectives and activism in psychology. The Michigan chapter of ABPsi was born.
In August of that same year, the national ABPsi began after a protest of Black graduate students at the American Psychological Association, proclaiming the need for a psychology that understands the cultural realities of Black people in America and the diaspora. After the Michigan chapter became inactive, the Metro Detroit Chapter was born in 1996. My mother, retired clinical psychologist Dr. Jane Robinson, was a founding member in 1968 and became Secretary at one time and president at another time. I was a founding member in 1996 and became Secretary at one time and have been serving as President for the past 6 years. A proud family legacy.
The Metro Detroit chapter has held meetings at various venues including Marygrove College and University of Detroit Mercy. We are grateful for Dr. Dondi Browner for inviting us to meet at the Michigan School of Professional Psychology, going on our second year here. One of our programs is an annual seminar for Black graduate students from across southeast Michigan. In addition, our chapter is gearing up to launch monthly gatherings for Detroit's Black community called Emotional Emancipation Circles. These interactive gatherings will focus on deconstructing the trauma and opposing the falsehood of Black inferiority that has plagued us as a people for generations, and how best to heal and free ourselves.
The Metro Detroit ABPsi meetings are on second Fridays at 5pm at the Woodlands office building. We highly encourage Black students at MSP to attend whenever they can or to get involved if attendance is impossible. It is a great way to serve the community and to obtain mentorship support from professionals who have navigated the stress of graduate school in psychology. Light refreshments and quarterly social activities are provided.
We have been actively participating in the school's community gatherings, promoting safe-space multicultural conversations. Everyone is invited. In them you will find ways to openly discuss and celebrate identity differences and interracial relations. There is healthy dialogue around the racial, gender, and attractional divides that exist among us, and how to create mindful solutions and humanistic goals toward increased understanding and interpersonal communication.
The mission of the national Association of Black Psychologists is liberate the African Mind, empower the African Character, and illuminate the African Spirit. Please visit the website at www.abpsi.org for more information.
The next annual conference of ABPsi is August 10-13, 2016 in Arlington, Virginia (near Washington, D.C.). We are encouraging MSP students to consider attending and hope that the school will place an ad in this year's program.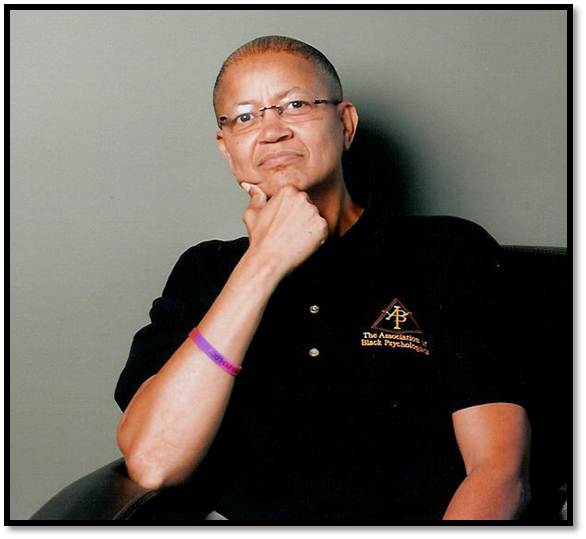 Amorie Robinson (AKA "Kofi Adoma"), PhD, Clinical Psychologist, Adjunct Faculty at MSP
Dr. Robinson is a licensed clinical psychologist practicing in and around Detroit where she is a native and resident. She is a graduate of Highland Park High School and received her Bachelor's degree in Psychology at Oberlin College, Master's degree in Educational Psychology and doctorate in Clinical Psychology at the University of Michigan. Dr. Robinson works at the Clinic for Child Study conducting therapy with adjudicated youth and their families. As a psychotherapist at various outpatient psychiatric clinics, she has spent 19 years working with adults, adolescents, and children. At present, she is at Northland Clinic in Farmington Hills. She has been a lecturer at the University of Michigan Women's Studies department teaching LGBT Studies and a Multicultural Context group process course. She currently teaches and does clinical supervision at the Michigan School of Professional Psychology. She does cultural competency trainings for mental health providers and educators across the state of Michigan. Dr. Robinson has published three journal articles related to the psychology of Black lesbians in America. Dr. Robinson is a co-founder and board member of the Ruth Ellis Center in Highland Park, an agency serving at-risk homeless LGBT youth. She is also president of the Detroit metro chapter of the Association of Black Psychologists and is a co-founder of Karibu House, Inc., an initiative to establish an LGBT of color community center in the city of Detroit.