In September, we were delighted to welcome Reem Fakherddine (MA '19), as a new Clinical Training Coordinator. Below, Reem offers insight into her role at MSP and a little about herself. Welcome, Reem!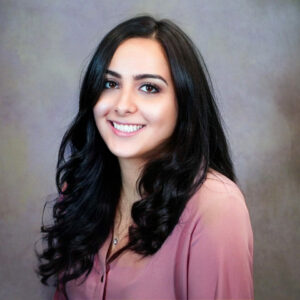 Give us a snapshot of your professional/academic background.
I graduated from MSP's MA program in July 2019. Since graduating, I have worked as an Intake Therapist at Hegira Health and a Psychometrician at the Leona Group. At Hegira Health, I completed mental health and substance abuse assessments, crisis screenings, and counseling sessions. At the Leona Group, I was assigned to the Detroit Public School system where I administered intelligence and achievement tests to assess for cognitive impairment and/or learning disability. I also plan to sit for the EPPP soon.
Describe your role at MSP.
I will report to Dr. Shepler and will work closely with him and Carol Hanson. I will provide assistance to Dr. Shepler in managing a variety of tasks including securing and reviewing sites, conducting routine site visits, facilitating practicum fairs and communication sessions, providing technical support and reporting associated with tracking hours, evaluations, and surveys, and a variety of other tasks.
What attracted you to working at MSP?
I loved being a student at MSP all those years ago so when the job was posted, I knew I had to have it. MSP has such a comfortable and open atmosphere which is something that I was really looking for in my next career. 
What are you looking forward to most in this position?
I am most looking forward to getting to know the students and faculty at MSP. I am also very excited about seeing how things have changed and how MSP has continued to grow over time. 
What is one thing that people might be surprised to know about you?
I think people are usually surprised that I have a twin brother…and a younger set of twin sisters.