On September 23, 2022 the Board of Trustees announced a change in Michigan School of Psychology's leadership to faculty, staff, and students. Dr. Fran Brown will be on sabbatical for the remainder of the 2022-2023 academic year. This comes after Dr. Brown notified the Board of her intentions to retire at the end of the year. In order to allow the institution to begin planning for the future, the Board has appointed Brian Spitsbergen, PhD, LPC, CAADC, PLLC as Interim President.
Dr. Brown is a graduate of MSP (MA '04, PsyD '08) and has served the institution diligently since graduation; first as the Director of Clinical Training and then Academic Program Director, prior to becoming President in 2018. In these administrative roles she was instrumental in helping the institution to achieve APA accreditation in 2016 and launching our name change and new brand in 2018. As President, her priorities were focused on an increased commitment to Diversity, Equity and Inclusion and campus expansion projects which included the completion of the Diane S. Blau Building and the opening of the Michigan School Clinic. Under Dr. Brown's guidance MSP successfully negotiated the tumult of the early years of the pandemic while maintaining steady enrollment. We thank her for her years of service and dedication to MSP.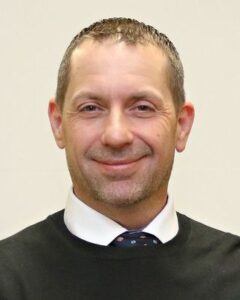 Moving forward, Dr. Spitsbergen (right) will serve as Interim President, and he and the Board will meet with students, faculty, staff, and administration to guide the institution through this transition. Dr. Spitsbergen had been a member of the Board of Trustees since 2017. As a Board member he served as Secretary for a three-year term before stepping into the role of Vice Chair in 2021. He has resigned from his role on the board in order to serve the School during this important transition. Dr. Spitsbergen is dedicated to upholding the mission, vision, and values of our institution while providing guidance and stability throughout the upcoming presidential search. His in-person schedule will begin the week of October 10th at which point he is looking forward to meeting with students and other members of the MSP community.
Dr. Spitsbergen earned his PhD from Oakland University in Counselor Education and is the founder of Brian Spitsbergen PhD, PLLC, a private practice focused on individual and corporate counseling and consultation for behavioral health and substance use disorders. Dr. Spitsbergen has worked directly in the SUD treatment field for over 30 years and has extensive experience in executive leadership, development of cutting-edge behavioral health, and treatment for adolescents, adults, and families. He has also led several regional projects to tackle the opioid crisis.
MSP is fortunate to have had a long period of continuity in its leadership positions, but it is not uncommon to have leadership changes in academia. We have an outstanding faculty, staff, administration, and academic leadership team including Vice President, Diane Zalapi, our Program Directors, Dr. Danielle Balaghi and Dr. Derrick Sebree, and our DCT, Dr. Dustin Shepler. Under their leadership we will move forward together and remain the strong institution that we have been for the last 41 years.
Additional questions about the leadership changes may be directed to the Board at [email protected].