Morgan Van Leer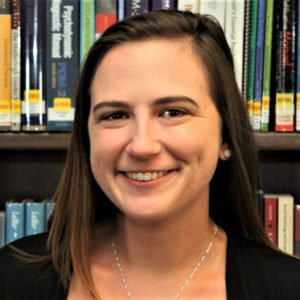 Hometown: Washington, MO
Program: PsyD
Book I would recommend: The Body Keeps The Score by Bessel Van Der Kolk
Favorite Quote:
"I don't know a perfect person. I only know flawed people who are still worth loving."
What would people be surprised to know about you? 
I lived in Galway, Ireland for 6 weeks during the summer of 2018! I volunteered at Galway Simon which is a homeless shelter for individuals with mental illness. 
Name a cause you are passionate about.
I am passionate about advocating for survivors of sexual assault and/or domestic violence. I want to work to change the stigma surrounding these traumas, as society still wants to victim blame.   
Why did you choose MSP?
I choose to attend MSP because I have never been to a school where I felt I really mattered. The professors and staff are incredible, and I love the feeling of a close-knit cohort. I also attended the Masters program here, I could not imagine going anywhere else for a doctorate. 
What do you plan to do with your degree?
With my degree, I want to eventually work in private practice, mainly working with trauma survivors. 
What is your plan after graduation?
After graduation I plan to find a job, but I'm not sure if I will end up back in Missouri or stay in Michigan. Honestly, I'll probably wait until the last year of the program to figure that out. TBD. 
Interested in being featured in the Student Spotlight?