Jasmine Perin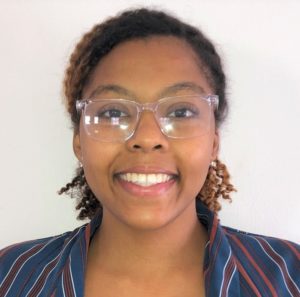 Hometown: Kalamazoo, MI
Program: MA with ABA Certificate
Book I would recommend: Homegoing by Yaa Gyasi
Favorite Quote:
"I've learned that people will forget what you said, people will forget what you did, but people will never forget how you made them feel."  – Maya Angelou
What would people be surprised to know about you? 
People would be surprised to know that I play Fortnite for self-care. 
Name a cause you are passionate about.
I am passionate about health care disparities. 
Why did you choose MSP?
I chose MSP because MSP is aligned with my value of humanism, the importance of representation and the need to ensure that more people get access to mental health services. 
What do you plan to do with your degree?
I want to work in a clinic with individuals living with heart disease, diabetes, hypertension and autism. I would also like to conduct community workshops that emphasize the relationship between mental and physical health. 
What is your plan after graduation?
My plan after graduation is to get more field experience, visit LA and pursue a PsyD. 
Interested in being featured in the Student Spotlight?