Our journey to opening the MSP clinic took a significant step in August when we welcomed Jim Maher, PhD as Clinic Director. Below Dr. Maher answers a few questions to offer insight into himself and his new role at MSP. 
Give us a snapshot of your professional/academic background. 
I received my PhD from the University of Detroit in 1989 and have spent most of the last thirty years working in local hospitals on inpatient psychiatric units.  I have also been involved in training interns and practicum students at the hospital setting, and teaching and supervising graduate students at the University of Detroit Mercy for many years.
How has your career led you to MSP?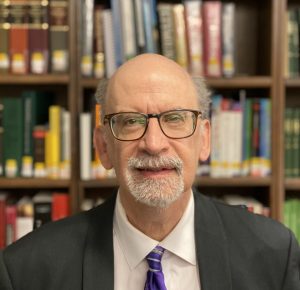 I thought it would be an exciting and challenging opportunity to start and oversee the development of the MSP Clinic.  From the time I originally applied for the position I was struck by the sense of vibrant spirit that is present in the MSP community.  Consistent with the School's values, people here seem to truly practice what they teach.  
Describe your role at MSP.
As Clinic Director, I am responsible for the running of the Clinic and to do everything possible to ensure that the experience there is a high quality one for the clients and student clinicians. This will involve interactions with the community, involvement in the physical layout of the temporary site and eventual new Clinic building, and overseeing the clinical and financial functioning of the Clinic.
What is your vision for the MSP clinic? Five years from now, what will the clinic look and feel like?
In five years, I envision the Clinic being a valued part of the community, a setting in which clients feel that the environment is welcoming  and the experience is therapeutic.  Also, the students who work as clinicians will feel that the Clinic offers a solid contribution to their efforts to develop their skills in our field. 
Why do you think a clinic at MSP is important to open now?
There is a tremendous need for mental health services nationwide, and that includes the metro Detroit area.  Despite that reality, there are relatively few settings that offer desperately needed services, and even fewer that offer these services at a relatively low cost.  The MSP Clinic can offer an option to help address these needs, and at a time when these needs are so intensely present in our community.
What has been your favorite part of the job so far?
The consistent welcome and support I have received since starting here!  It can be a daunting task to plan and start  a psychology training clinic, and the people here have made me feel like I am not in this endeavor alone.
Name one thing that people may be surprised to learn about you.
I am a huge Bruce Springsteen fan!