Mark Murawski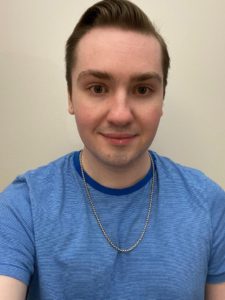 Hometown: Pacific Grove, CA
Program: MA
Book I would recommend: Grapes of Wrath by John Steinbeck 
Favorite Quote:
"When you reach the end of your rope, tie a knot in it and hang on." Franklin D. Roosevelt  
What would people be surprised to know about you? 
People would be surprised to know that I speak three languages: English, Mandarin, and Polish.
Name a cause you are passionate about.
As a Type-1 Diabetic myself, I am passionate about facilitating a cure for Type-1 Diabetes, and I am also passionate about mental health awareness.
Why did you choose MSP?
I chose to attend MSP because I heard incredibly positive feedback regarding both the curriculum and job outlook post-graduation; and thereby decided MSP would be an amazing fit as MSP aligns well with my future goals and endeavors.
What do you plan to do with your degree?
I would preferably like to work in some type of mental health clinic with aging individuals suffering from ailments such as anxiety/depression or work towards opening my own mental health clinic when I complete my degree and coursework.
What is your plan after graduation?
My plan after graduation is to complete the EPPP and either work at a mental health clinic with the aging population or attempt to open my own clinic with my credentials.
Interested in being featured in the Student Spotlight?