We are delighted to feature MSP alum Matthew Kadrich, PsyD ('16) in our latest Faculty Spotlight. Dr. Kadrich is an adjunct faculty member teaching Assessment in the PsyD program.
Where did you grow up?
My parents were in the Air Force, so we moved a lot. Mostly, I split time between South Carolina, where I graduated from high school, and Michigan.
What or who influenced you to study psychology?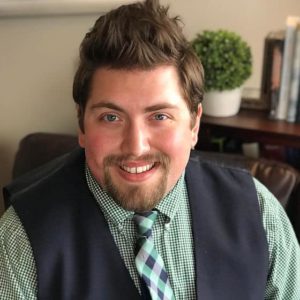 When people used to ask me this question, my "go-to" response was, "Have you met my family," but when my family got wind of that, Christmas got weird.
The truth is, I have always been interested in why humans behave in certain ways. While I was at Wayne State working on my undergrad degree, I worked for Caribou Coffee. I had a regular customer who would often come in and talk about philosophy, literature, and psychology. We would get into wonderful conversations about the brain and why people do what they do. In our conversations, he encouraged me to take a class in abnormal psychology. I took that class and became fascinated, which set off the chain of events that lead to this point today.
However, it was through my coursework and experiences at MSP that I became interested in neuropsychology. In connecting behavior with the wiring of the brain, I was inspired to focus my career on understanding the brain more in depth and helping other people understand their brains as well.
What appealed to you most about teaching here at MSP?
I am a graduate of the school and gained the direction of my career from my time here. When I was encouraged to teach by several colleagues, I was excited at the opportunity to help other people find their direction. I was also excited to take what I have learned outside of MSP and share it with students. The other appealing aspect was that, not only are my mentors still working at the school, but some of the brightest and most compassionate of my friends (all of whom I met as a MSP student) also work for the school. To be working collaboratively with each of these individuals and to be able to share this experience with them was a big reason I pursued teaching here.
What are your research and/or clinical interests? 
My clinical life is consumed by neuropsychology, which is exactly what I wanted. Clinically, I am focused on neuropsychological evaluations and trying to help people understand why they are experiencing certain things. In the past, my research has been very focused on aspects of social psychology (possible selves and social interaction), but lately my journal searches have been focused on exploring the ways in which common medical conditions (i.e., asthma) can impact the brain and whether or not we can explain some of the things our patients are experiencing as a result of these common conditions.
Additionally, based on the work of a mentor who found that Tourette's Syndrome may mimic aspects of ADHD, I have also started research on developing inventories to assist in differentiating ADHD, Tourette's Syndrome, and autism spectrum disorder. The idea is to identify and possibly delineate the types of field-dependent or exploratory behaviors seen in these disorders to assist in more accurate diagnostic formulation.
What is your favorite non-academic book and why?
I tend to listen to audiobooks because being in the car is typically the only time I can devote to reading unless it has buttons that make animal noises or a Disney princess making friends. I have a few favorites, though. Where'd You Go Bernadette has been a favorite, largely because the character development is so vivid. I also tell anyone who will listen to read Life Will Be the Death of Me by Chelsea Handler. While her books are normally not very serious, she spends a significant amount of time in this book not only exploring her own loss and trauma, but also her therapeutic process with her therapist (who happens to be Dan Siegel, which is a plus). The Song of Achilles is tragic and heartbreaking, but intensely good. Viola Davis' memoir is one of the best I've read, and I would read a dishwasher instructional manual if it was written by Samantha Irby or Jenny Lawson.
What would people be surprised to learn about you?
I am Iron Man…no wait…that's not it. I am not a surprising person, quite frankly. I am fairly open about my life and like to share my experiences with people. I think the most surprising thing to people is that I lived in four different places before I was five, or that I grew up in the south, as I have no discernable accent unless I am speaking to a lovely older person who reminds me of a grandparent. Then the ma'ams have a certain twang.
What advice would you like to share with incoming or current students?
Graduate school is not easy for anyone, no matter how unbothered or rested people look. If they look rested, it is likely that their main food group is coffee. You are not alone in feeling overwhelmed or nervous, and if you can reach out to your circle, the people going through it with you, it is easier. Take time to explore your interests, as big or small as they may be. You may find yourself invested or interested in something that inspires, humbles, and excites you.