This week we turn the Faculty Spotlight to Danielle Balaghi, PhD who joined MSP as a Core Faculty member this September. Dr. Balaghi was kind enough to answer a few questions below. 
Where did you grow up?
I moved a few times, being born in Lincoln Park, then spending my first year in Lebanon, then the next 5 or 6 years in Dearborn, MI.  We then made the final move to Livonia, MI.  I then moved to East Lansing for grad school.  I'm counting East Lansing as I spent a critical part of my personal development in grad school (age 21-26).
What or who influenced you to study psychology?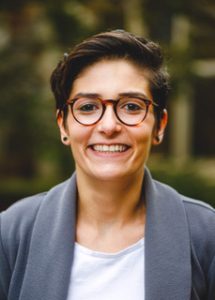 I remember I had read some sci-fi book when I was in high school that made me think about human behavior. It quickly elicited curiosity and interest in the topic.  I didn't know psychology was a field until I took a class on it near the end of high school. My undergraduate experiences also continued to facilitate my interests and got me interested in research. I joined a few research labs, which got me interested in research.  My undergraduate professors became my mentors and role models. I loved how they taught, researched, and connected with students; they made me feel like I belonged in the field.  I told myself that I wanted to do just that. The rest is history.
What appealed to you most about teaching here at MSP?
The focus on teaching, mentorship, and authenticity. It provides the environment for me to emulate what my undergraduate professors did for me.  I want to "pay it forward".  
Please share a moment when you felt proud to be a teacher.
When the classroom becomes a place where students challenge, support, and relate to one another, I feel satisfied.  I think that helping to facilitate the formation of that secure base within the classroom helps strengthen their critical thinking skills and reinforce their curiosity and zeal for learning.
What are you most passionate about in your professional life?
My research interests (and passion) for the past ten years or so have been studying discrimination and prejudice, as it taps into my need for social justice.  Other research interests include studying ethnic, gender, and/or religious identities, ethnic enclaves, refugee mental health, and school-based mental health.  
What is your favorite non-academic book and why?
Harry Potter.  Classic.  That series got me into reading as a kid and taught me how powerful writing can be.  I was pretty sad when I turned 11 and did not get a letter to Hogwarts.
What would people be surprised to learn about you?
There are a few things: One is that I have run an entire 10K in an inflatable alien costume.  I'm also really into learning about blackholes and dark matter.  I also used to be a slam poet when I was an undergraduate.
What advice would you like to share with incoming or current students?
 It's ok to make mistakes. If there is a time to make and learn from mistakes, its grad school. It's what you do with those mistakes that matter; reframe it as a learning opportunity rather than a reflection of ability or skill.