Dr. Brooke Colman (PsyD '21) is an adjunct professor teaching a section on Professional and Scientific Ethics in the MA program this semester.

Where did you grow up?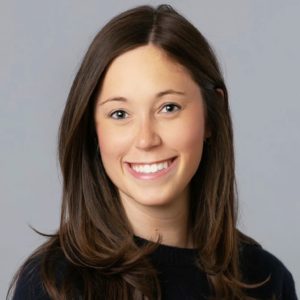 I grew up in Bloomfield Hills, Michigan and attended Michigan State University for my undergraduate studies. I spent some time in Chicago, but moved back to Michigan about six years ago.
What or who influenced you to study psychology?
I spent several years working in the marketing field before realizing it was not the career I wanted. Fast forward to a few years later, I decided to make a bold choice and switch careers to psychology. I was passionate about the field and it just made sense. I have always been drawn to better understand human behavior and engage with people on a much deeper level, and knowing this helped solidify my decision to change careers.
What are your research and/or clinical interests?
My clinical and research interests are always evolving. Recently I have found an interest in health psychology, specifically chronic pain and weight management. This research helps me when working with patients that are challenged with self-esteem and issues related to body image. My dissertation focused on intersectionalities with transracial adoption through looking at the parents' perception of their children's, both biological and adopted, developmental and emotional challenges.
What appeals to you most about teaching at MSP?
My years in MSP's doctoral program further enriched my desire to become a clinical psychologist. The MSP community is one that is unmatched by any other program that I have seen. The faculty and students work together to enhance the field by developing both a personal and professional identity within their clinical practice. Returning as a faculty member provides me with the opportunity to both serve as a mentor to and collaborate with students.
What is your favorite non-academic book and why?
I gravitate towards adventure books by author Gillian Flynn. However, I recently read Where the Crawdads Sing and The Paper Palace, both of which I highly recommend.
What advice would you like to share with incoming or current students?
You either walk inside your story and own it or you stand outside your story and hustle for your worthiness.                                                                                                                     –Brené Brown
"Trust the process" is a quote that is emphasized throughout MSP. It is a reflection of taking a chance, trying new things, and enjoying the experiences that MSP offers. Learn to appreciate the process by accepting the unknowns, give into your fears, and embrace all that comes with it. Your time at MSP comes and goes very quickly. Let yourself feel all the emotions: the fears, the excitements, and above all the adventure! I promise you it will be all worth it!