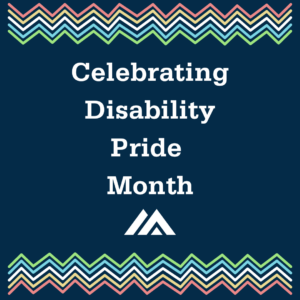 July is Disability Pride Month, a time to celebrate and increase the visibility of individuals with disabilities. Disability Pride Month began as the commemoration of the passing of the Americans with Disabilities Act (ADA) in July of 1990 and has since become not only a celebration but an important time for disability rights advocacy work. 
What does it mean to have a disability?
Disability is an umbrella term that, according to the ADA definition, encompasses "physical or mental impairment that substantially limits one or more major life activity." This includes both visible and invisible disabilities. As the name suggests a visible disability is a disability that is visible in its entirety such as an amputation, or in part such as being hearing impaired and wearing hearing aids. Invisible disabilities are not readily apparent, like being chronically ill or having ADHD. Many individuals with invisible disabilities face additional challenges due to others making the assumption that they are not a person with a disability. 
Why do we celebrate Disability Pride Month?
Historically, individuals with disabilities have been forcibly incarcerated, institutionalized, and faced other barriers to equal opportunity. Disability Pride month serves as a time to recognize these injustices, challenge misconceptions about disabilities, encourage inclusive language, and celebrate the individuals who have worked hard to bring change. It's also a time to elevate the voices of the disability rights advocates who are continuing this work, specifically those who live with disabilities. Beyond celebrating advocacy work, Disability Pride Month is also a time to break the stigmas that surround individuals with disabilities by recognizing that they often lead happy, fulfilling lives. 
Why is Disability Pride Month important for Clinicians?
Many individuals with disabilities will seek help from a mental health professional throughout their lives. This could be part of an intervention specific to the disability, an assessment needed to receive a diagnosis, or numerous other reasons. Even if the individual isn't seeking assistance for something stemming from the disability itself, it's important for clinicians to understand the ways in which living with a disability impacts their clients daily life. Mental health clinicians are in the unique position to empower, support, and advocate for clients with disabilities, both visible and invisible.
Most importantly, keep learning and reflecting and remember that the challenges the individuals with both visible and invisible disabilities face are ongoing. Incorporate anti-ableism into everyday action, not just during Disability Pride Month.
Resources for Additional Learning
APA DART Toolbox for Practitioners
Disabilities Rights and Independent Living Movement
HRW Observing Disability Pride
It's Time To Talk About Disability Pride