Purpose
Student Programming at MSP is focused on enriching the student academic experience through educational and social activities. 
Our goal is to create opportunities for students to have fun, be creative, expand knowledge, and deepen their connection to each other and to the larger MSP community.  
Fundraising for local nonprofit organizations is an essential part of Programming. Throughout the academic year, students have the opportunity to support organizations such as HAVEN, Sanctum House, The Metta Yoga Project, American Foundation for Suicide Prevention, Affirmations, Micah 6 Community, and more.
Monthly Programming Model
Our Monthly Programming Model creates a direct connection between programming activities and academic material to spark creativity and foster a deeper connection with the key tenets of humanistic psychology. 
This year, our programming theme is the wellness wheel. The wellness wheel is comprised of 8 dimensions of wellness: social, emotional, spiritual, physical, financial, environmental, occupational, and intellectual. The dimensions are interconnected and important to a well-rounded and balanced lifestyle.
Each month**, programming will be centered around one dimension of the wellness wheel.
September – Social Wellness focuses on developing and maintaining healthy relationships with friends, family, and the community. 
October – Emotional Wellness focuses on the awareness, acceptance, and management of emotions. 
November – Spiritual Wellness focuses on building a connection to something greater than yourself, including morals and ethics. For some, this may involve religion. 
January – Physical Wellness focuses on meeting the needs of the body including physical activity, sleep, and nutrition. 
February – Financial Wellness focuses on the ability to satisfy current and future needs.  
March – Environmental Wellness focuses on creating an enjoyable personal environment in both indoor and outdoor spaces. 
May – Occupational Wellness focuses on generating personal satisfaction and growth from one's work. 
June – Intellectual Wellness focuses on expanding knowledge, skills, and creativity. 
**December, April, and July will focus on programming that prepares students for their finals instead of the wellness wheel.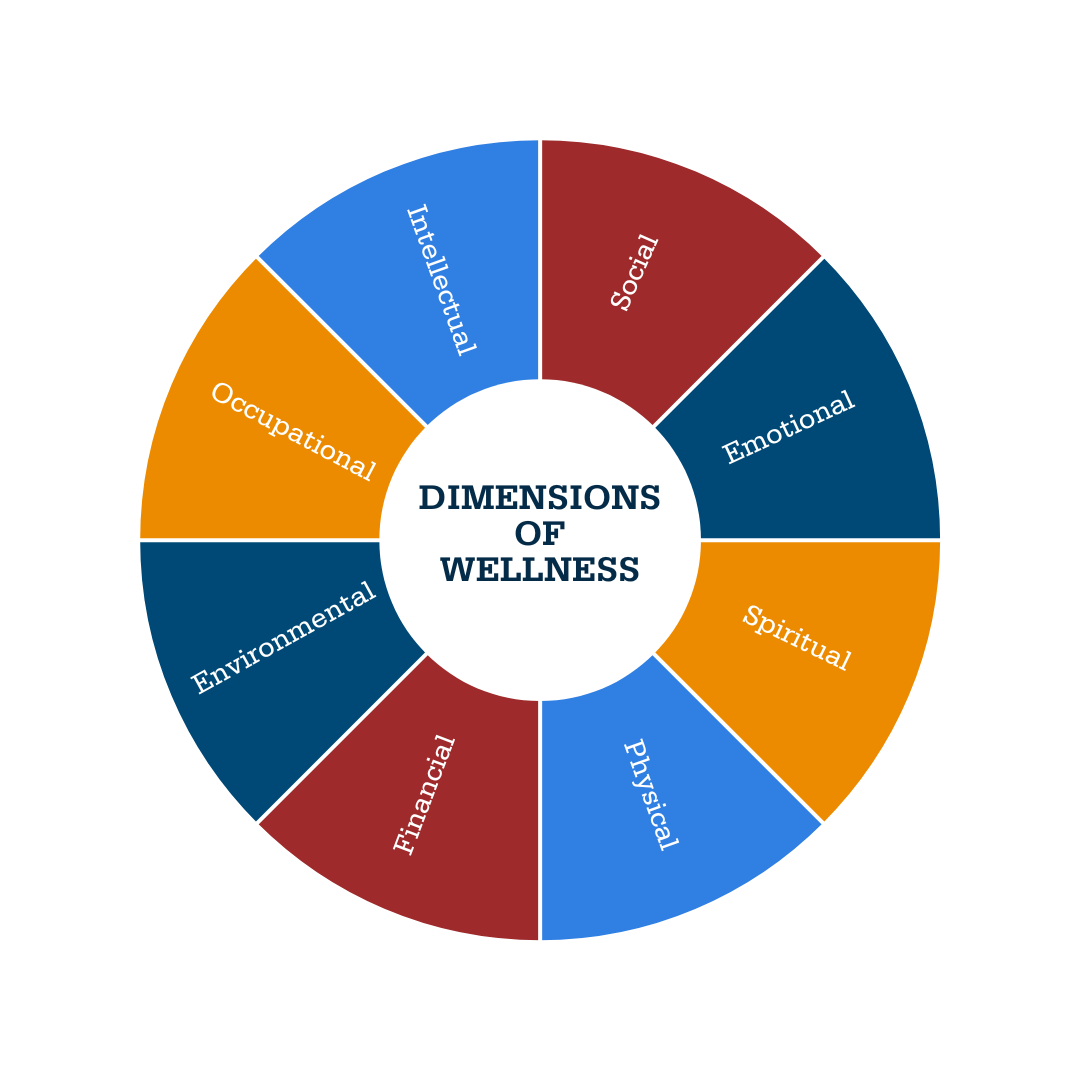 What is Wellness?
Wellness, in summary, means being healthy in many areas of our lives. According to the Substance Abuse and Mental Health Services Administration's (SAMHSA) wellness initiative, every aspect of wellness can affect a person's life and relates directly to quality of life. It is important for MSP students, future psychologists, to understand the 8 dimensions of wellness as they relate to both themselves and others as they prepare to provide mental health care to others. Maintaining wellness involves creating balance, embracing support from others, valuing habits and routines, and continuing to learn about yourself and your environment. 
Student engagement at MSP aims to provide programming to address each dimension of the dimension wheel for the 2022-2023 academic year. Each month, a dimension of wellness will be highlighted with programming aimed at providing knowledge around different aspects of that dimension, often with a psychology lens.