Bre Sullivan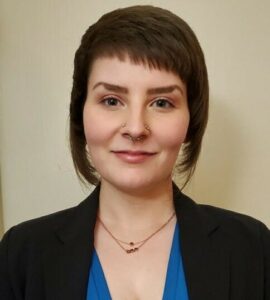 Hometown: Saginaw, MI
Program: PsyD
Book I would recommend: Tuesdays with Morrie by Mitch Albom
Favorite Quote: "I took a deep breath and listened to the old brag of my heart. I am, I am, I am." -Sylvia Plath
What would people be surprised to know about you? 
People might be surprised to know that I enjoy both video games and various forms of art for self-care, as well as ways of personal expression.
Name a cause you are passionate about.
A cause I am passionate about is the positive impact of interacting with nature and animals on human mental wellbeing.
Why did you choose MSP?
I chose to attend MSP largely due to the warm and inviting atmosphere that was present while I completed the MA program. After building experience in the field, it felt like a clear choice to return.
What do you want to do with your degree?
With my degree, I plan to hold space by opening a clinic that offers support through a network of professionals for individuals of all ages and life experiences.
What are you most looking forward to about your program?
I am most looking forward to exploring strategies to support and facilitate growth in our communities while creating meaningful connections.