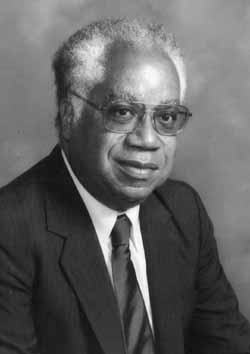 Joseph L. White, PhD had a profound impact on the field of psychology during his lifetime.  Among his many accomplishments, Dr. White was Professor of Psychology and Psychiatry at the University of California, Irvine and was a founding member of the Association of Black Psychologists.  Throughout his career, Dr. White focused on supporting people of color and "championing the rights of blacks."  His 1970 article in Ebony magazine "Toward a Black Psychology" is credited as the seminal argument that white psychology could not represent black people.  Shannon Chávez-Korell, PhD shares her remembrance of Dr. White below.
---
Dr. Joe White, the Godfather of Black Psychology, passed away on November 21, 2017.   Dr. White was not only a living legend in the field of psychology, but also a mentor, a role model, and a spiritual force in the lives of so many.
There are no words to express the tremendous loss, and no words to fully capture the love and immense gratitude I have for Dr. White.  He forever changed my life and put it on a course for the better.  I will forever be grateful for his mentorship. Dr. White mentored me since my years as a graduate student at Penn State and continued to mentor me throughout my career.
Dr. White mentored hundreds of first generation People of Color in psychology. His unwavering belief in the power of mentorship, humanity, dignity, and equity changed the field and transformed lives.  Dr. White taught us to love People of Color unapologetically, create scholarship that challenges white supremacy and inequity, and commit our careers and scholarship to social justice and mentoring.
Dr. Joe White has made a huge positive difference in the world and his spirit and legacy will live on through the actions of those who had the privilege of learning from him.  May he rest in peace and love.
---