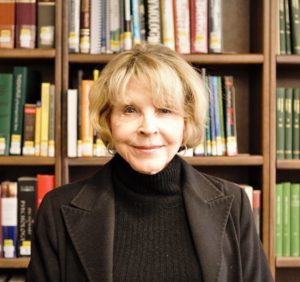 We are pleased to feature Nancy Liebler, PhD in our latest Faculty Spotlight! Learn more about Dr. Liebler below:
Where did you grow up?
I've often said that I grew up on the Pennsylvania Turnpike!  I was born in rural New Jersey, but when I was 12 my parents and I moved to Columbus, Ohio.  We visited New Jersey frequently, driving back and forth on the Pa. Turnpike. High Bridge, New Jersey and Columbus, Ohio were my two homes.  My heart, however, was mostly in New Jersey because that is where my beloved grandmother lived.
What or who influenced you to study psychology?
I grew up in a family that enjoyed sitting around the dining room table, talking and talking. As an only child I hung out at that table with the adults and was privy to their conversations.  We lived in a small town and everyone knew everyone else and I think I was "in training" to be a psychologist by the time I was five years old. Certainly I learned a great deal about human nature from these conversations.
What appealed to you most about teaching here at MSP?
I very much appreciate the feeling of warmth and inclusiveness at MSP.  I taught here for a several years and then didn't for a few years and I am delighted to be back.
Please share a moment when you felt proud to be a teacher.
I am proud when I feel that I am making a connection with students and making a difference.  To be a psychologist one needs support and validation and hopefully I can give that.
What are you most passionate about in your professional life?
I am most passionate about helping troubled children. It is very much my belief that therapists who wish to help children need to learn to work with parents and to understand the importance of family dynamics.  I enjoy reading research on family therapy and enjoy teaching this subject.
What is your favorite non-academic book and why?
One Hundred Years of Solitude by Gabriel Garcia Marquez, is my favorite non-academic book. It is chock full of metaphors and absurdities and doesn't seem to make sense, but in a weird way, it does comes together.  One Hundred Years of Solitude follows a family's history through 7 generations and of course this type of book would appeal to a family therapist.
What would people be surprised to learn about you?
I have co-authored two books on natural medicine.  Enlightened Medicine was co-authored with Dr. Paul Dugliss and Healing Depression the Mind-Body Way: creating happiness with meditation, yoga and Ayurveda was co-authored with Sandra Moss.  The latter has been translated into German and is selling well in Germany.
What advice would you like to share with incoming or current students?
School is only the beginning of your journey.  Read books, novels and literature about psychotherapy that resonates with you. Acquire good supervision from someone you respect and like.  Remember—-You must nourish your spirit, your body and your mind if you are to be helpful to others.