We are delighted to introduce Dr. Quillian Murphy in our newest Faculty Spotlight. Dr. Murphy is a new Core faculty member this academic year. He is teaching Multicultural Psychology & Social Justice and Clinical Health Psychology first semester. 
Where did you grow up?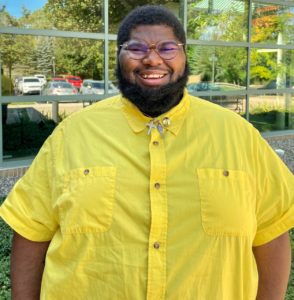 The Motor City! Motown! The Big D! Detroit, Michigan.
What or who influenced you to study psychology?
Growing up in Detroit certainly contributed to my interest in psychology and mental health. During undergrad, my professors really introduced me to the science of psychology through courses, conferences, and quantitative research labs. The psychology faculty of Ferris State University opened my eyes to a career I once thought out of reach for a Black, low-income, first-generation college student from Detroit. Beyond FSU, so many professors, mentors, and mental health professionals influenced my decision to pursue a career in health service psychology.
What are your research and/or clinical interests?
My research and clinical interest are interrelated. Primarily my scholarly work has focused on BIPOC, LGBTQIA+ communities, first-generation college students, and Black doctoral students and their families. My clinical interests are wide, but often center on the provision of services to minoritized folx/communities across the lifespan.
What appeals to you most about teaching at MSP?
The school's mission, the focus on mentorship, and the humanistic principles that inform curriculum, instruction, and policy. Now that I am here, I can add that the community of support present for faculty, staff, and students let me know that I made the right decision.
What is your favorite non-academic book and why?
I don't know if I have a favorite book. However, there are five books I am currently reading.
1. All Boys Aren't Blue – George Johnson
2. Hood Feminism – Mikki Kendall 
3. Polysecure – Jessica Fern
4. Love's Not Color Blind – Kevin Patterson
5. The Fire Next Time – James Baldwin 
What advice would you like to share with incoming or current students?
Find a community that is supportive and ready to celebrate each milestone with you. Also, there is power in saying "no." Listening to your body, and be intentional about the self-care approaches you implement. Asking for help is a strength.