We are delighted to welcome Lama Hodroj MA, TLLP, BCBA, LBA to the role ABA Clinic Supervisor at the Michigan School Psychological Clinic. Lama will supervise the MSP students who are completing their clinical training hours at the Clinic.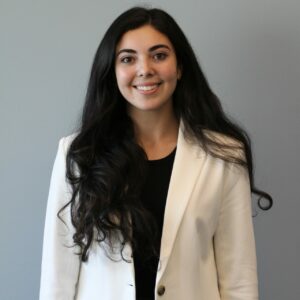 Give us a snapshot of your professional/academic background.
I received my Bachelor of Arts degree in Psychology through Oakland University in 2018. Shortly after, I attended the Michigan School of Psychology to pursue my Master of Arts degree in Clinical Psychology with a certificate in Applied Behavior Analysis. I worked in various roles at an ABA clinic for 6 years and completed my year-long clinical practicum at StoneCrest Center in Detroit. After completing my coursework, I received my TLLP and began working as a behavior consultant before becoming a fully licensed Board-Certified Behavior Analyst in March of 2021. I practiced for over a year as a BCBA prior to transitioning to my role at the Michigan Psychological Clinic as the ABA Clinical Supervisor.
How has your career led you to MSP?
After graduating from MSP, I transitioned into my role as a clinician at a clinic for two years prior to returning to MSP in a new role as the ABA Clinical Supervisor. In a way, my time at MSP led me to my career!
Describe your role at the Clinic
My role at the clinic is to provide Applied Behavior Analysis services to families in addition to providing clinical supervision to students completing their training within the field of ABA.
What aspect of your role are you looking forward to most?
I'm most looking forward to working closely with students to ensure they have a well-rounded practicum experience as they prepare for what comes after graduation! I'm also greatly looking forward to working with children and their families to provide meaningful treatment.
Name one thing that people may be surprised to learn about you.
I grew up in Cairo, Egypt and moved to Michigan in 2009!