MSP Student Ambassadors serve as representatives of the student body and are here to answer any questions you may have about student life at MSP.
Our ambassadors each bring a unique personal perspective to student life – some are fresh out of undergraduate studies, some balance parenthood and classwork, and some are taking classes part-time and working.
Each ambassador has volunteered personal information they are willing to share with prospective students.
If you would like to contact one of the ambassadors below regarding their experience(s) at MSP, please feel free to email them.
Master of Arts in Clinical Psychology Program
Master of Arts in Clinical Psychology Program with Certificate in Applied Behavior Analysis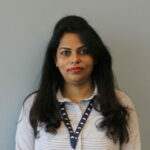 Sunanda Mishra
Sunanda is a first-year student in the part-time MA/ABA program at MSP. She has a Master's degree in Educational and Developmental Psychology from India. Her areas of interest include treatment and approaches for developmental disabilities, understanding cultural diversity, psychological topics that can bring people together from different cultures, and humanistic psychology. She is excited to share her experience as an international student!