Fejiro Evwaraye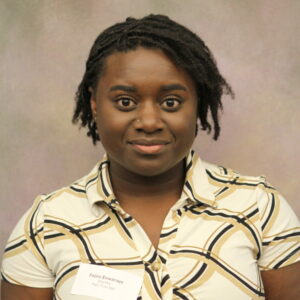 Hometown: Farmington Hills, MI
Program: MA
Book I would recommend: 101 Essays That Will Change the Way You Think  by Brianna West
Favorite Quote: "And will you succeed? Yes indeed, yes indeed! Ninety-eight and three-quarters percent guaranteed!" – Dr Seuss
What would people be surprised to know about you? 
People would be surprised to know that I was born in England. I moved to the US in 11th grade and became a US citizen in 2021.
Name a cause you are passionate about.
I am passionate about the mental health of people of color. I believe we have a very unique experience that brings us closer together.
Why did you choose MSP?
I chose to attend MSP because it aligns well with my personal beliefs and career goals.
What do you want to do with your degree?
I want to work in a private practice setting as a therapist. I would possibly like to work with children, families, and/or couples.
What are you most looking forward to about your program?
I am looking forward to the practicum experience and getting out into the field. I am also looking forward to meeting new people with similar interests and networking professionally.