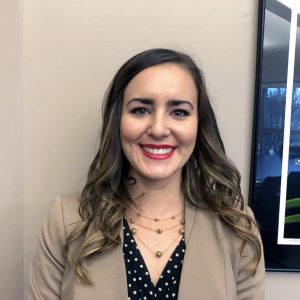 We are pleased to feature MSP alum Jessica Dluzynski, PsyD ('17) in our latest Faculty Spotlight! Learn more about Dr. Dluzynski below:
Where did you grow up?
I grew up in Sterling Heights, Michigan, a busy suburb of the metro Detroit area, with my parents and two siblings.
What or who influenced you to study psychology?
I've known I wanted to study psychology since I was in junior high school. Since I can remember, I've been curious about why people do the things they do. It was at this time that I discovered I could actually have a career studying human behavior and find out the answers to my inquiries.
What appealed to you most about teaching at MSP?
The Michigan School of Psychology is truly a magical place that makes me feel accepted and understood. I am forever thankful for the education I received as a student and will never forget the impact my professors had on me both personally and professionally. It is a dream to be a part of that experience for my students.
Please share a moment when you felt proud to be a teacher.
There are many moments in which I feel proud to be a teacher, but my most favorite moments are when I am able to witness the transformation of my students' conceptualization of the material. It's an indescribable feeling when I experience concepts begin to "click" for students, and content that was once confusing and challenging becomes relatable. It feels very rewarding to help facilitate that process of discovery for them.
What are your research and/or clinical interests?
I am very passionate about studying the relationship between humans and animals. I think the positive impact animals can have on human functioning in various aspects is remarkable. I love to learn about it and impart that knowledge to others. I also spend much of my clinical practice conducting neuropsychological assessments for various reasons and find the connection between brain function and behavior to be fascinating.
What is one of your favorite quotes?
"Accept everything about yourself – I mean everything; you are you and that is the beginning and the end – no apologies, no regrets."  Dr. Clark Moustakas (MSP Founder)
What would people be surprised to learn about you?
I have a certified therapy dog. He is a 5-year old miniature goldendoodle, named Ozzie. We love to volunteer together at schools, hospitals, nursing homes, and community events. Ozzie gets very excited when we pull up to our therapy visits and wags his tail vigorously. It's heart-warming to see the impact he has on the people he visits and it brings me so much joy.
What sage advice would you like to share with students?
Get involved and try out new things. Sometimes you will not know that you have an interest in something until you give it a chance. As a student, I did not think I would enjoy research until I took a leap of faith and joined a research team. It really changed my view of research once I better understood the dynamics involved. There is so much support at MSP, so now is the opportunity to put yourself out there and see what happens!