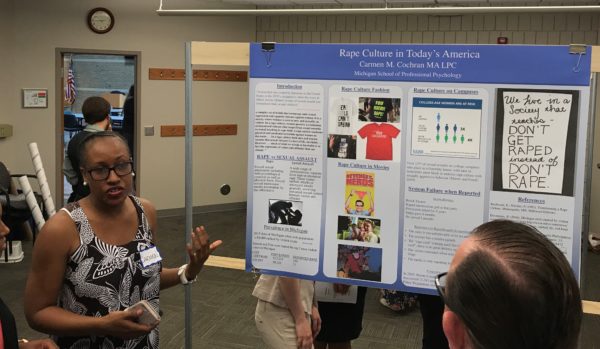 Carmen Cochran (PsyD 3) discussing her research during a poster session.
Sixth Annual Research Symposium 
The Michigan School of Psychology
Sponsored by Psi Chi
Friday, April 17, 2020
12:00pm to 5:00pm
Featuring Olivenne Skinner, PhD as Keynote Speaker
Join us for the Sixth Annual Research Symposium hosted by Psi Chi at the Michigan School of Psychology on Friday, April 17, 2020 in Farmington Hills, Michigan.
This student and professional friendly summit is designed to include persons who are currently enrolled in undergraduate or graduate programs or working in a field pertaining to psychology, counseling, and other mental health related fields.
We are committed to engaging activists, educators, future scholars and clinicians in meaningful discussion around current issues relating to clinical and psychological processes. 
Poster and panel presentations may include original research, literature reviews, and/or conceptual work. Presentation topics such as multicultural issues, diversity in health psychology, neuropsychology, gender, sexuality, ethnicity, race, culture, religion, and psychological assessment, among others are welcome. Please note, panel presentations will be limited. 
You do NOT need to be a member of Psi Chi to present or attend the symposium.
CALL FOR PROPOSALS!
Submissions: Deadline for all submissions has been extended to March 13, 2020.
Please submit a 150-word abstract detailing the poster or panel presentation that you are proposing. The proposal abstract should include a short summary of the topic, research question, method, findings, and implications of the project. Titles should be limited to 10 words or fewer. Each author/co-author should be listed in order of greatest to least contribution. References used in your research should also be included in your submission. APA style 6th edition is the standard accepted format for references. 
Poster Presentations: Posters will be presented in one of two 50 minute sessions.
*Posters will be judged and awarded at the end of the symposium 
Panel Presentations: Panel presentations will be 50 minutes and presented between the poster presentations. 
To submit, please click the following link: Presentation Submissions
Questions?
 Please contact Nadeen Majeed, Research Symposium Chair