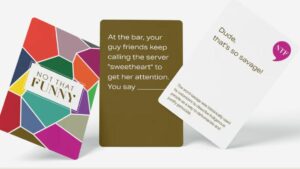 Not That Funny is an activity designed to build awareness surrounding the origins of harmful common phrases and to build the skills needed to have conversations around these phrases when we hear them. As a part of MSP's structural racism program, we encourage students to join us in this activity that is "designed to change the world, one awkward conversation at a time" on *September 28th from 12:30-1:15. Location to be determined. 
While the conversations may feel uncomfortable, they are not designed to make any individual feel unsafe. In the interest of promoting lively and productive interactions, each group participating in the activity will have faculty and/or staff facilitators who will be enforcing the following expectations:
The cards dealing with harmful language are labeled so that no individual taking part in the activity

will be taken by surprise when a challenging conversation arises.

Cards dealing with harmful language also included research-backed reasons for why the phrase is harmful that can be used to help facilitate conversations.

The activity is challenge by choice, participants are able to step away from and return to the activity at any point in time.

At the end of the activity, there will be the opportunity for participants to debrief with their group and/or a facilitator.
RSVP below.